What fun!  I was honored and thrilled to present a found poem-mixed media workshop here in Beaufort last week, downtown at Coastal Art Supply, just a block from my studio. We had a full table with nine folks, with lots of earnest creating and snips of scissors. (This was a more intimate version of the Found Poem Makerspace workshop I presented in Bellingham, Washington, in the fall of 2016 with a few dozen children's poets and other brave creative souls. Revisit that link for more of the step-by-step process.)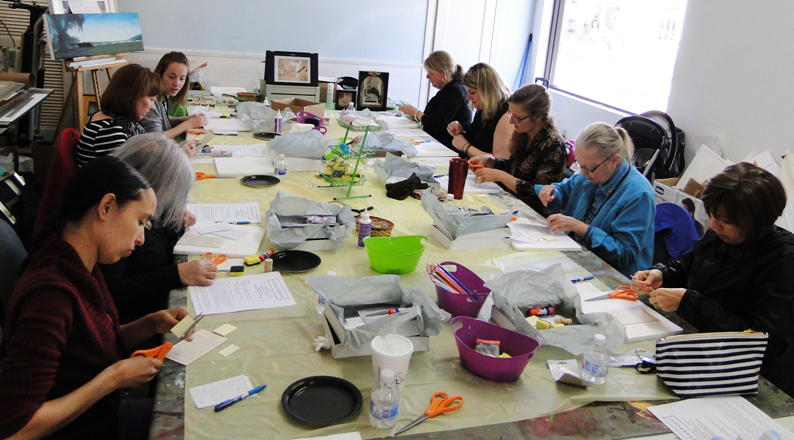 Our text for finding poems, also serving as our substrate (surface) were Edu-cards from the 1960s or so.  I offered a choice of "shell" or "butterfly," with complementary vintage bookplates, postage stamps, and bits of stamped brass bling. Of course, the actual subject of the poem and visual elements were up to each artist!  That's the fun part.  The art (made in just two hours!) was tucked into a 5X7 mat, ready to pop into a frame.
Jill made this gorgeous piece:
take a hike
in the spring encountering
Every roadway while
butterflies
rise in clouds
Being strong intelligent
they have 
ability
are
successful
©Jill W.
Yes!  Butterflies as strong and successful!
For her collage, Jill's daughter Sierra conjured up WONDER, from an Edu-card with text about a shell.  (I'm featuring this poem over on my author blog for Poetry Friday, too!)
WONDER
grace    beauty   perfect
strange
oriental
But, let's stop and think.  Maybe it is
a builder
for 
ideas.
©Sierra W.
I just love that – and the cool tones and mysterious palette Sierra chose to illustrate it.
I was thrilled to have Kim Poovey, author and historic reenactress, join the party!  She came with her creative mother, Karen. In fact, we ended up with three mother-daughter sets – an extra fun element to our creative afternoon. Can you tell Kim is a novelist from her workshop piece below? She picked some lovely language, including "…winged creatures/fairies arising/ nightly wanderings/Luna glow…."
Here's one last sample from the day – ALL of the pieces were unique and beautiful! This colorful creation is from Mikka Dutton:
I love that Mikka included the "From the Library Of" part of the bookplate(!) and followed that with some sassy introductory lines and images – "one courtly/highly prized/"hard to get"/as well….."
I am always surprised and delighted by what folks come up with, and it's magical to me to see individual personalities shine through the choices of words, elements, colors, and the particular combinations of all of these.
MANY thanks to all of our afternoon creators – and thank you for letting me share your work.  Thanks also for asking if I would offer another workshop sometime – I am DEFINITELY game!  :0) If you'd like me to keep your email address handy for info about future classes, toss me a line at Robyn@artsyletters.com