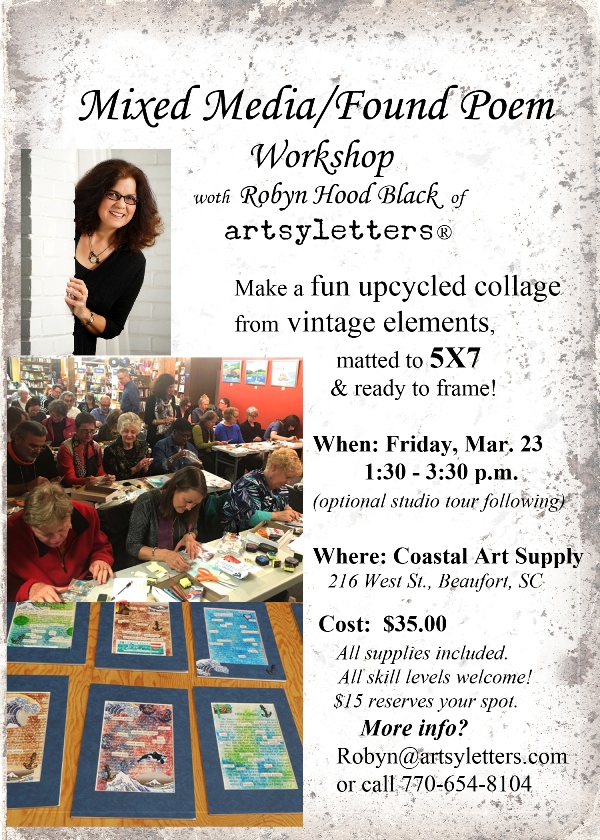 Want to learn fun tips and techniques to create a one-of-a-kind collage?  In this two-hour workshop, we'll use vintage elements to make a found poem/mixed media piece matted to 5X7 and ready to frame.  Take what you learn with you to make more fun art on your own!  Several customers have asked for fun artsy-crafty class, and I'm delighted to offer this as my first class in Beaufort.
No experience required – just an interest in words, art, imagination, and magical creations.  I'll supply scissors and adhesives & such in addition to all components.
Date:  March 23, 2018
Time:  1:30 p.m. to 3:30 p.m.
Location:  Coastal Art Supply, 216 West Street, Beaufort, SC
Cost:  $35 includes all materials.  $15 deposit, refundable until March 22.  Sign up at Coastal Art Supply or with Robyn – robyn@artsyletters.com or 770-654-8104
(Minimum number of attendees required; maximum number of 10.)
What's in store?  It will be a more intimate version of the workshop I offered in Bellingham, Washington, just over a year ago.  Click HERE for the blog post about it, including links to posts from participants!
Hope to see you there,
Robyn