My post this week for Art Break Wednesday is brief, as I've been covered up in dog issues among other things since last week.  So, we'll take a peek at drawing dogs!
On the home front, we've been nursing an ill dog – one of our 13-year-old dachshund mixes (we have two males, littermates) is battling pancreatitis.  Back and forth to the vet, fluids at home, etc. etc.  He's a trouper and we're trying to get him over this episode and settled back into a routine.  Also, last Thursday night, I rescued a waif of a little creature from a very busy road in our town.  (Did not exercise the best judgment while driving to do it – thankful for those Thanksgiving guardian angels that must have been close by.)
She's a little chihuahua.  Not even a real dog! ;0)  Actually, we've been unable to locate her owner and she has settled in just fine over here, charming everyone she meets.  Except one of the cats.  I look forward to having a few minutes one of these days to sit down and sketch her.
In the meantime, let me share a great little book I found a few years ago.  Our new diminutive doggie reminds me of some Disney character.  She could really be one.  While I'll never be a Disney artist, I did grow up in the shadow of Disney World in Orlando and have always admired much of the art, especially in the classic movies.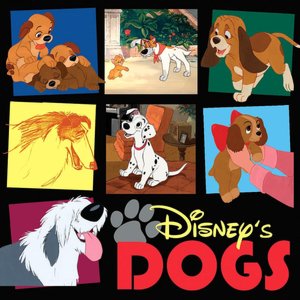 DISNEY'S DOGS, concepted and designed by Ramara Khalaf and published by Disney editions, offers a great peek into famous and not-so-famous Disney canids throughout the decades.  The book appears to be out of print now, but you might find used copies online.
This book is part history, part art lesson, and a big part fun, with inspiring dog-related quotes sprinkled throughout.  The variety of art styles and personalities of the dogs themselves is a treat to peruse.
As an exercise, I have found myself sketching from Disney movies to explore the construction of those terrific, expressive animals.  (I still have my set of Disney album storybooks, which I "played" literally and figuratively, incessantly as a child.  Anyone else remember those?)
Many of our classic Disney movies are VHS tapes, since my kids came along in the 90s.  You can pop one in your VCR (assuming you still have one of those!) and stop the action at any point to do a quick sketch or two.
Or, sketch freely and quickly as the action unfolds, like a gesture drawing.
Do you have a favorite way to sketch animals?  Any favortie Disney dogs?  Thanks for coming by!