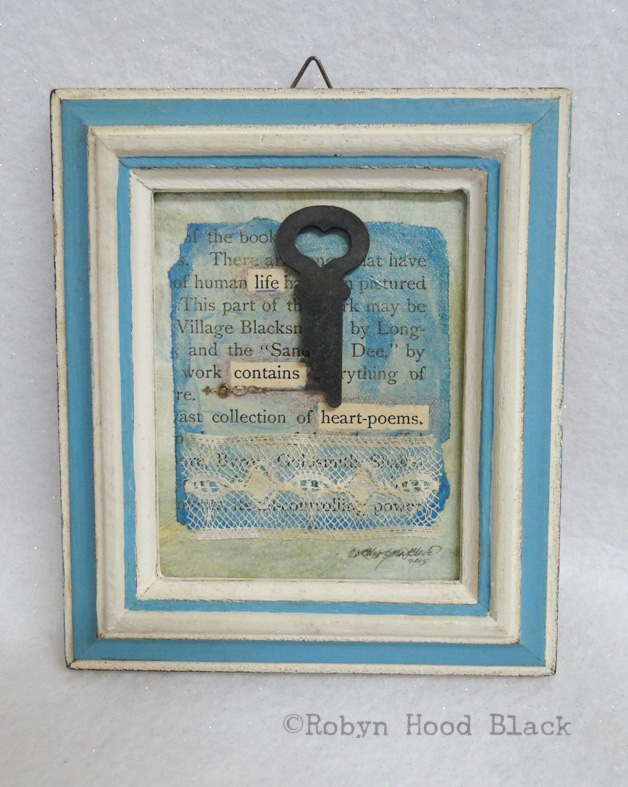 I hope you are having a Wonderful Poetry Month!  In my corner of the virtual world, the Kidlitosphere, bloggers and poets are celebrating all month long with fun and inspiring projects.  You can find a roundup by the terrific Jama Kim Rattigan at Jama's Alphabet Soup.
One of these years I'll have it together to do something beyond a few special posts on my robynhoodblack.com blog in April. Like last year, I'm participating in the Progressive Poem today and will host Poetry Friday this coming Friday.
But I did sneak over to the studio to finish a little project I've been wanting to make for weeks. (I was "homebound" in early April finishing some freelance writing assignments and hosting company.) This little framed mixed media piece features highlighted text from CROWN JEWELS – OR GEMS OF LITERATURE, ART AND MUSIC, compiled by Henry Davenport Northrop, D. D., copyright 1887 by J. R. Jones. The original text was given a glossy acrylic wash and boasts a vintage heart key, a snip of vintage lace, and a small fancy vintage watch hand from France.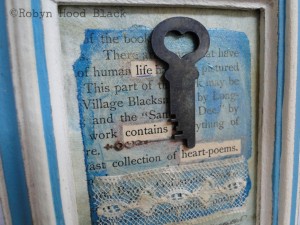 It says:
life
contains
heart-poems.
The frame is one of four I found in an antique shop a few years ago. It's about 4 and 1/2 by 5 inches – wooden, made in Italy.  It has the loveliest handpainted turquoise color, with antique (very antique-y looking now!) white paint as well.  It's full of character (slight imperfections), and I kept the little triangle brass hanger attached at the top.
I was tempted to keep it, as I rather like the simple message this old text yielded.  But I also love it when someone comes along and says a piece like this speaks to them, or they have the perfect person in mind to give it to.  So I listed it in my Etsy shop.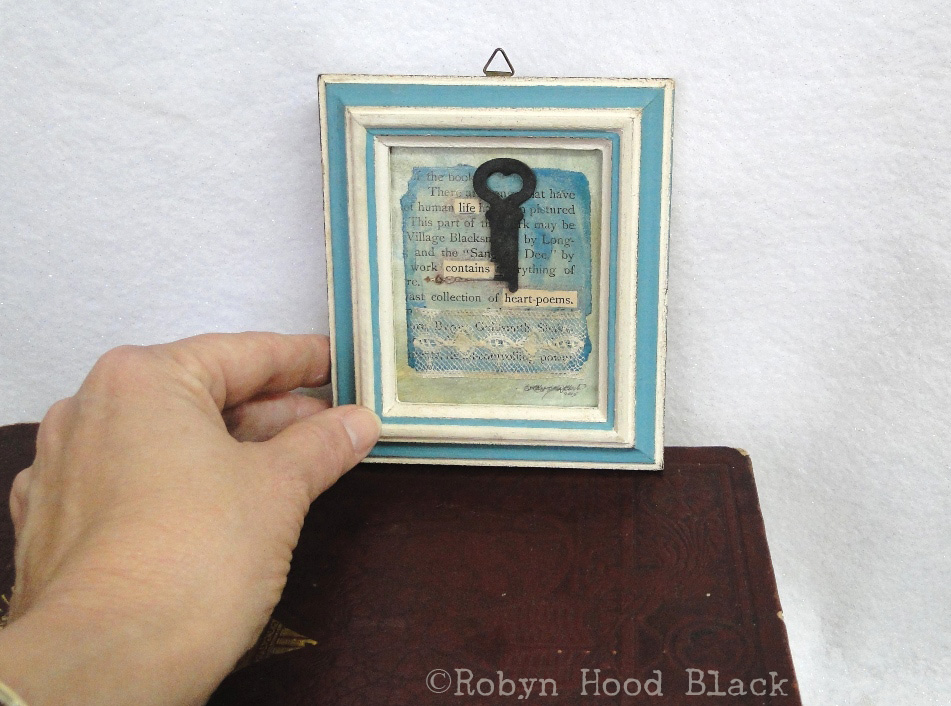 Whether it sells quickly or hangs around a long while, I wish its sentiment for you always:  that your life is full of heart-poems!  Happy Poetry Month.