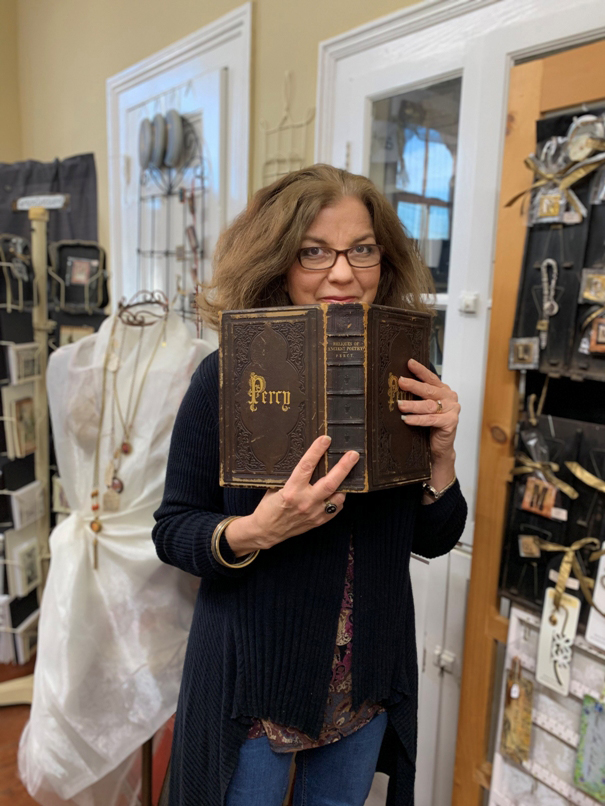 This Friday, March 1 from 5 to 8 p.m., downtown Beaufort celebrates the 5th anniversary of FIRST FRIDAY!
Kick off March with a "Stop and Shop" evening in downtown Beaufort this week. Thanks to the hard work of many, spearheaded by Mary and Eric at Thibault Gallery, FIRST FRIDAY is celebrating its 5th anniversary. (Thibault Gallery is, too – go by and give them some love!)
I'll be hanging out at the clock downtown with Rhonda and Bernadette from the City of Beaufort. Come by and say hello! And then go check on Jeff, who will be minding the store at my studio at 811 Bay Street upstairs, with help from the wonderful Kim Poovey. Need some "literary art with a vintage vibe"? We've got you covered with my handcrafted gifts for readers and writers. Many of my items are also available at The Beaufort Emporium – be sure to enjoy the unique gifts and treats you can find there, seven days a week!
Enjoy an evening of strolling, entertainment, refreshments, catching up with old friends and making new ones – and maybe a little local shopping and dining! (If it sprinkles, we won't let it dampen our spirits. It will just help green up our beautiful town for March.) See you Friday evening!