In Unity's "Daily Word" devotional booklet entry today, there's a quote from the Rev. Dr. Martin Luther King, Jr.:  "Faith is taking the first step even when you don't see the whole staircase."
As we celebrate sweeping, life-affirming dreams for humanity today, I'm also thankful for smaller, individual ones.  My kids are both starting a new year in college, and my husband has just begun new, fulfilling work.  And I'm pondering that artsyletters is almost a year old!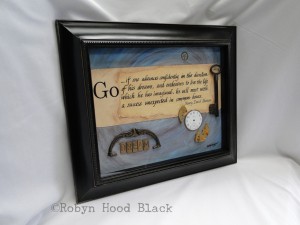 While my business won't fund those college educations, I feel blessed with the feedback I've gotten from customers this past year.  I've sold work to college professors, history teachers, librarians, writers & poets, artists, high school students, mothers and grandmothers and husbands – folks from across the country and even across the ocean.  And I've only just begun!
This weekend I'll have a booth at the fabulous, crowded, lively Decatur Book Festival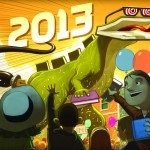 BOOKZILLA interpreted by Dan Santat
in Atlanta. (Not too far from the children's stage – come on by if you're there.)  I've enjoyed participating as an author before, but this will be my first time as a solo vendor.So my desk/work area pretty much looks like this: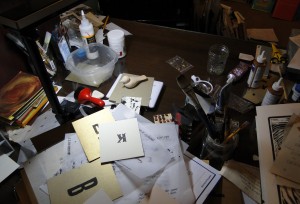 Multiply that, and you can imagine what my studio (and the rest of the house) looks like this week.
I will not have all the inventory I've imagined in my mind – so many projects, so little time!  But I won't run out of ideas for future shows, either.  Here are some 5 X 7 pieces made with those new letterpress blocks I raved about before: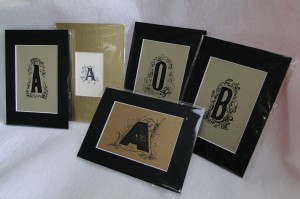 I've hand-stamped the blocks with oil-based printing ink, then decorated with a dip pen and India ink (and some gold on the smaller ones) .
And because I just found a wonderful complete set of typewriter keys on Etsy, I've assembled a few more earrings: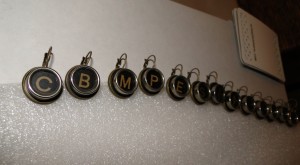 I've just sold three collages out of the blue, so I'm hoping to finish up a few more framed pieces to add to the mix.  And I need to get back to blinging up some bookmarks, packaging notecards, putting together  magnets, sprucing up booth decor…  Who needs sleep?
Wishing you a moment to pause today and think about dreams big and small, with gratitude for those who have risked their own lives to make life better for others.  And I wish you an outlet for your own creative dreams, no matter the size!