Greetings, Art Lovers!  If you're an animal lover, too, this post is for you.  This week on my post for Poetry Friday over at my author blog, I included pictures of (actual) animals encountered on our recent trip across The Pond, with a shout-out to some new animal-themed books for young readers by a few kidlit buddies. I promised to feature some other animal-themed trip pictures here, so off we go!
(First, a pic of the human animals on our trip:)
Starting with heraldic symbolism, we saw lions and unicorns everywhere. :0)
I'd like to study up on all this much more, but basically, the Lion represents England and the Unicorn, which is chained, represents Scotland.
In Scotland, we saw solo unicorns as well, and the Lion Rampant.  "Rampant" refers to the position of the animal. According to the Cambridge Dictionary, the word after a noun means: "(of an animal represented on a coat of arms) standing on its back legs with its front legs raised." The Royal Banner of Scotland features a red lion rampant (with blue tongue and claws) on a gold background.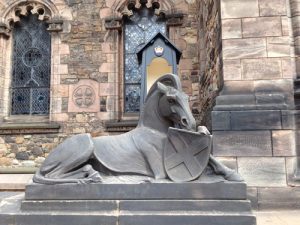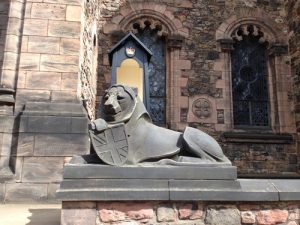 These beauties were sculpted by Phillis Bone and flank the entrance to The National War Memorial for Scotland at Edinburgh Castle.  Inside the Memorial are Rolls of Honour of Scots servicemen and women from all the Armed Services, the Dominions, Merchant Navy, Women's Services, Nursing Services and civilian casualties of all wars from 1914 to date.
Also at Edinburgh Castle, there is a dog cemetery!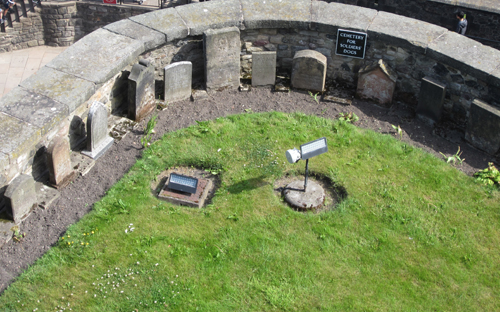 Since 1840, it has served as a resting place for canine companions of high-ranking military members. It has more than 20 headstones.
Robert Burns wrote of it:
Berkin dugs here lie at rest
The yappin worst, obedient best
Sodgers pets and mascots tae
Still the guard the castle to this day
On our way to the Scottish Highlands, we were enchanted by the world's largest equine sculptures. Officially unveiled in 2014, these 30-meter-high steel horse heads, The Kelpies, preside over Falkirk.  Created by Andy Scott, they weigh 300 metric tons each and celebrate the role of horses in Scotland's industrial history. (Kelpies are legendary aquatic beings who can shape-shift, haunting rivers and other bodies of water ….)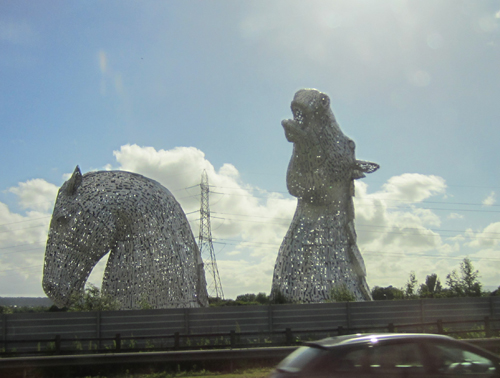 At the other end of the size spectrum, I was enchanted by this wee birdhouse in the idyllic village of Luss on Loch Lomond:
The house featuring these avian accommodations must be a haven for animals, as this sign also appears in the front yard:
Another day trip while (whilst!) in Scotland found us meandering back from St. Andrews through the charming village of Falkland (where the opening scenes in Outlander were filmed, as Inverness!) .  Walking back to the bus, I had to snap some pictures of another residence.  There was originally a real bird perched in the garden vignette, but it flew away faster than I could capture it, so I have this darling little sculpture to share instead.  Can you find it among the flowers?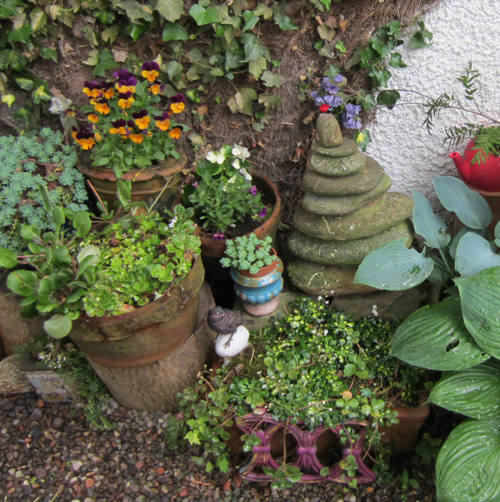 Also guarding this enchanting home was an irresistible Scottie dog statue:
And now for a a few animal-themed pictures from Ireland. One of our first stops was a tour through seven-story Guinness Storehouse. I was delighted to discover the third floor's advertising exhibit, chronicling 80 years of imaginative ads!  Here's a fun sample:
Speaking of signs, one of my favorites was in Kilkenny, a beautiful village in the country outside of Dublin.  Here you will find Kyteler's Inn, established in 1324!  (Yep – that's not a typo.)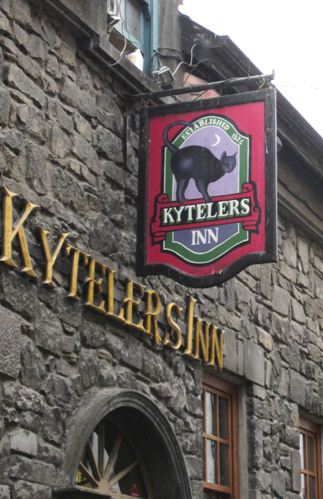 Black cat images abound here and there near the inn, paying homage to the original proprietress, Alice de Kyteler. She married four times, accumulating quite a bit of wealth.  Jealousy and accusations erupted, and she was eventually accused of witchcraft. Sentenced to be burned, she managed to escape to England before the execution could take place.
Animal imagery also abounds in The Book of Kells, an illuminated manuscript from about 800 A.D. and housed at Trinity College, Dublin.  My family indulged me in a morning visit.  You can't take photographs of the actual manuscripts (under glass in a small room, with certain sections exhibited at a time), but here are some pictures of the display boards before you enter, featuring reproductions of illustrations from The Book of Kells and other related manuscripts.  (These large boards were curved, hence some wonkiness picture-wise.)  If you find yourself in Dublin and fancy hand-lettered scripts and decoration, you must get yourself there!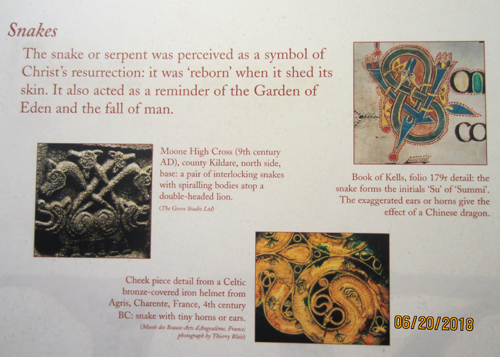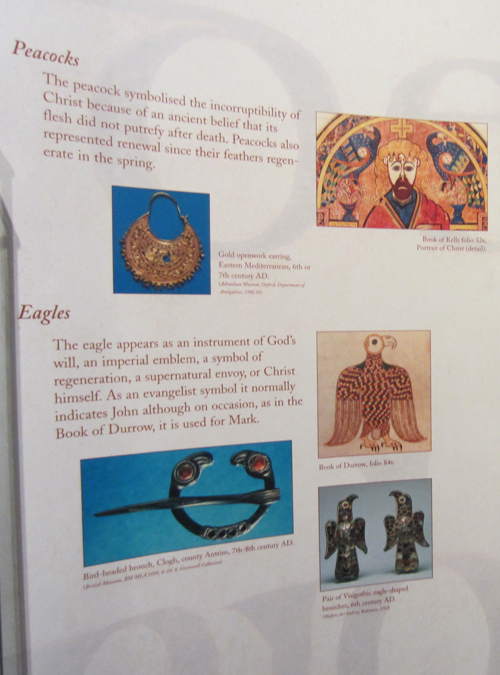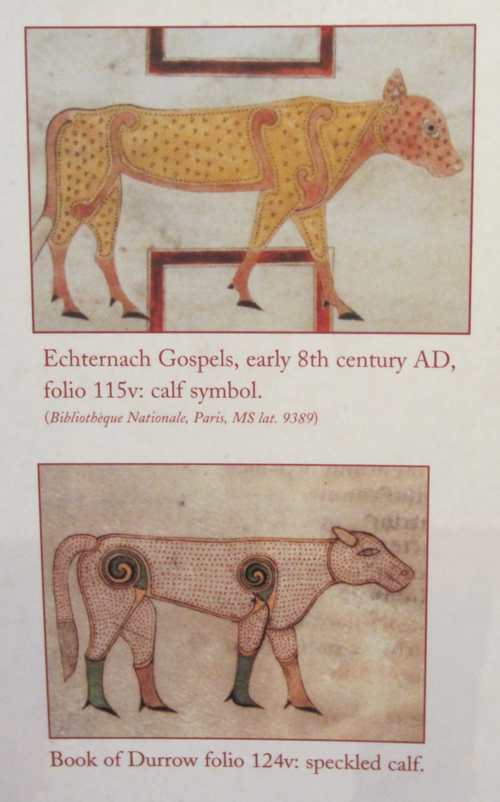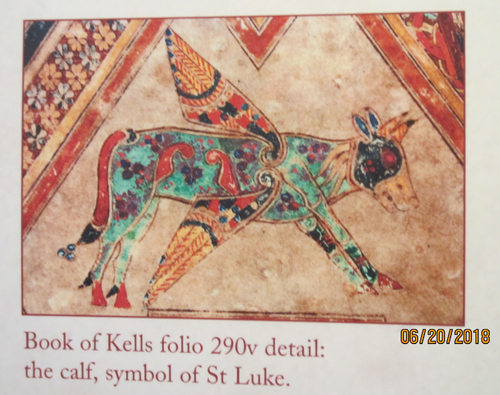 And, of course one of my favorites, a wolf: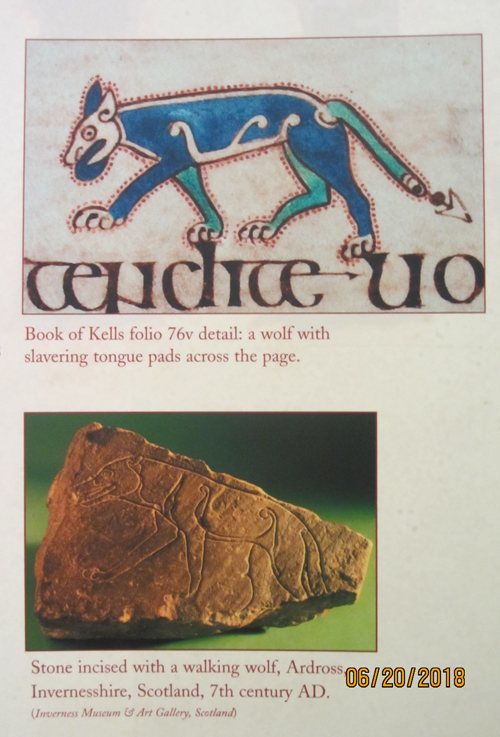 And the style spills right over into signs on campus: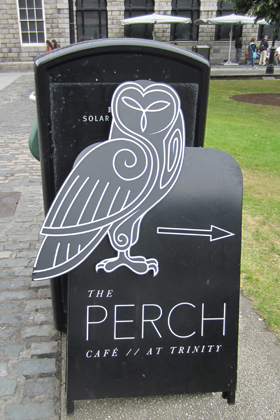 After Trinity College in the morning, we visited Christ Church Cathedral in the afternoon. Our hearts were warmed to read the story of this cathedral kitty who now has a loving home there, Laurence MagifiCAT.  (Um, you can find him on Twitter here. Another kitty at a different cathedral, Doorkins, is on Twitter and has a new book out to boot!)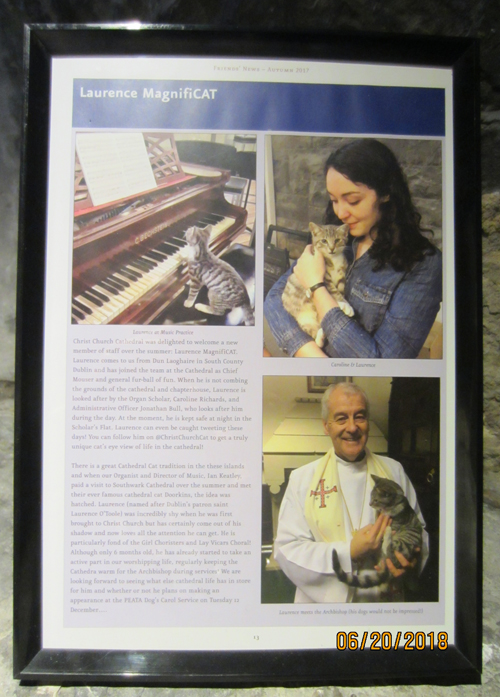 Of course, not all animals pictured in the cathedral's exhibits are of the warm, fuzzy variety… some are shining in heavy metal, like these priceless birds!  The exhibits in the medieval crypt – Ireland's largest,  and the earliest surviving structure in the city – were well worth the meander.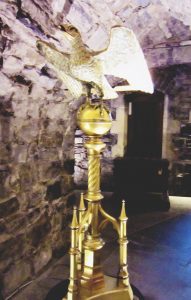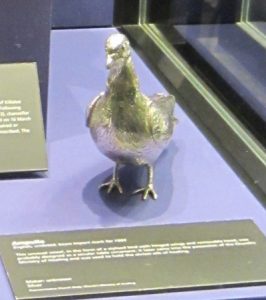 The most popular exhibit in the crypt is the one I'll leave you with.  "The cat and the rat," or, as they are locally known, Tom and Jerry, make quite the impression. Here they are with the explanation reprinted:
I'll have to dig out this picture again closer to Halloween….
I hope you enjoyed this wee journey, and thanks for tagging along!  By the way, new animal-themed offerings in my Etsy shop include these "teeny wee notebooks," featuring a "hairy coo" (Highland cow) and my little Writer Mouse, pictured & linked here:
And my animal-themed note cards are also bundled together (2 each) in an "Animal Combo Pack":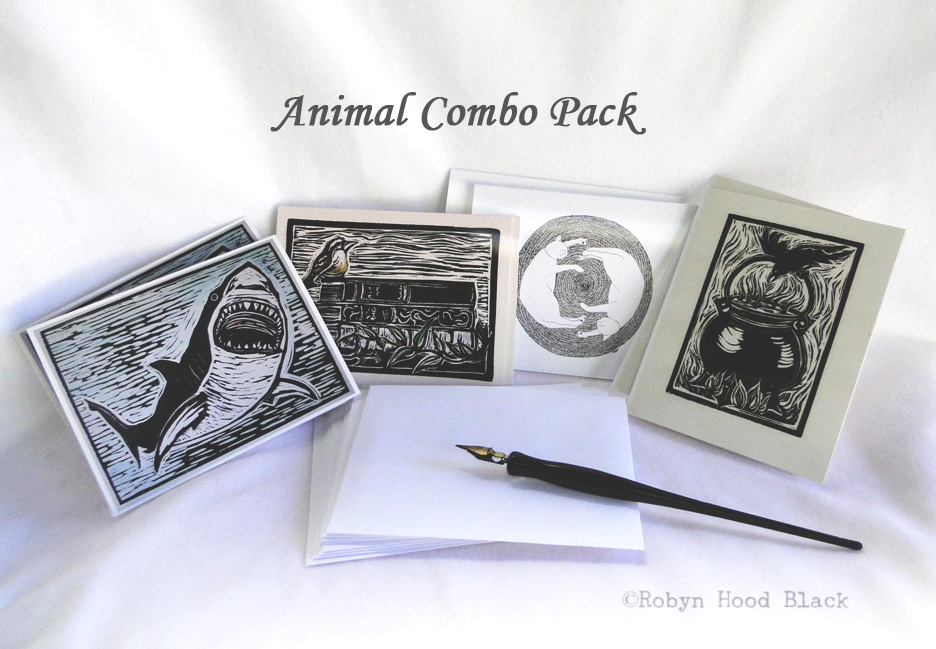 Happy travels, whether you go by paw, hoof, feathers or flippers!