Hope you are enjoying a Happy Poetry Month!
Today I have a special treat.  Children's poet and author, sought-after writing teacher, and Poem Farm blog creator Amy Ludwig VanDerwater has embarked on a wonderful project this month that she graciously agreed to let me share here.
Each day in April, Amy has been "Drawing Into Poems" – her daily "drawing/seeing/writing study into poetry."
"I chose this project because I have always wanted to learn to see better, to understand through seeing, to develop my own sensitivity," she says in the introductory post here.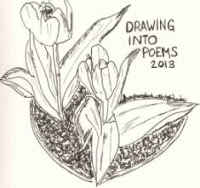 (Don't miss the great books she's listed as resources on that page.  I smiled at a couple of old favorites, THE ZEN OF SEEING by Frederick Franck  and DRAWING ON THE RIGHT SIDE OF THE BRAIN by Betty Edwards.  Others I'm putting on my to-read list.)
Here's a taste of her project.
On April 4th, Amy shared this drawing of a bowl: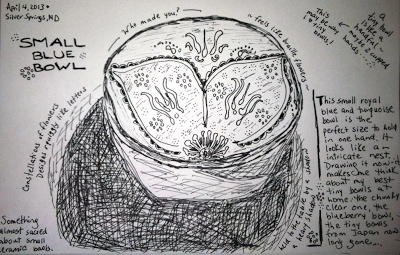 On April 5th, she shared a poem inspired by that drawing exercise: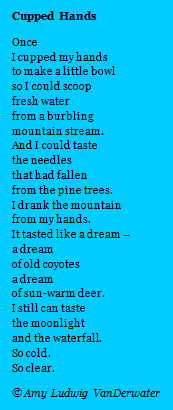 Don't you love all those associations?  And such lovely imagery?
"a dream / of old coyotes / a dream / of sun-warm deer" makes me swoon.
Another favorite of mine from this project is her cemetery sketch from this past Monday (April 15):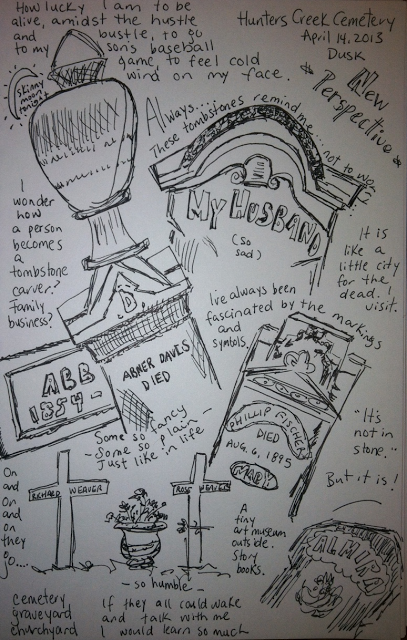 I  LOVE the lively composition here – so much life for such a "grave" subject, no?  And what wonderful reflections, such as the winding thought penned above the arched tombstone, "Always… These tombstones remind me… not to worry…"
I'm enjoying Amy's reflections in her blog posts, too.  Here's an excerpt from this same day:
"What places make you feel grateful and reflective?  It is important for all of us to find places where we can find our quiet selves and just think. Cemeteries slow me down and help me remember what matters most to me.  I wish that I could talk with all of the people buried here, learn from them, hear their lessons."
My mother instilled in me a love of walking through cemeteries, too – sketching, pondering.  Amy's drawings and words help us appreciate such contemplative moments and places.
At just past the mid-way point of this project, I asked Amy what she's learned so far.
"Halfway through my month of Drawing into Poems, I see that drawing and writing are even more alike than I had imagined," she says. "There's that initial flash of love, followed by circling around and around, trying to make clear outside what you see and deeply feel inside.  I'm studying shadows now, and roof lines, noticing the silhouette of a milk carton and the way our mother cat's tail curls around her smallest kitten.  I am seeing more because I am looking differently; drawing has opened up another window for me.  I plan to keep drawing in my notebooks even after April is over so as not to lose these new eyes."
Amy's poetry appears in many publications and acclaimed anthologies.  Her first collection for children was released this spring by Clarion Books – FOREST HAS A SONG, illustrated by Robbin Gourley.  Led by a girl in spunky red boots, readers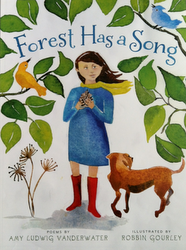 explore the woods in 26 poems.  From "Song":
Under giant pines / I hear / a forest chorus / crisp and clear.
Singing its praises are the most respected names in the field of children's poetry as well as teachers in the trenches.  You might also be interested in seeing the art for this book develop – Amy includes a page on her website which chronicles Robbin Gourley's beautiful illustrations as they progressed.
Now, I know you want to click over to Amy's blog and check out all the art and reflections thus far this month.  And aren't you thankful we still have a couple more weeks to go in April? :0)
Gracious thanks to Amy for visiting today and sharing her inspiring work!