I love my customers.  It's been an honor to connect with old and new friends at recent shows.
Folks who are attracted to art with a literary bent are usually pretty interesting, thoughtful people. One such new acquaintance discussed a custom order option for her book club – she wanted to present the members with bookmarks as gifts and picked out a few designs for me to send her in bulk.  We got to chatting, and she said, "If you ever make a Book Club bookmark, let me know."
"I've had that on my to-do list," I said.  "How soon would you need them?"
Long story short, I came home, set up a little still life,  got out the golden-buff parchment paper and my inks and paint, and got busy.  Nothing like a "lowest prices of the year" sale at the online printer's, ending at midnight, to spur on creativity!  (I use Overnight Prints, by the way – "the greenest online printer in the world," so says their website.)
I emailed her the image I sent off for printing, and she decided to get these instead of the ones she'd picked out.  Customers do have great ideas!
Well, with that sale's ticking deadline teasing me from my computer screen, I also got out the white paper, whipped up this "Poets" bookmark design, placed it over the illustration I'd just made (covering the Book Club lettering), scanned it in, and ordered these too.  (Love me some Gothic/black letter, I do.)  I made the deadline only because it wasn't Eastern Standard Time there, evidently. ;0)
Sometimes a little inspiration goes a long way!  I'll get these new bookmarks listed in my Etsy shop sometime today. [DONE – Click here for the link to the Book Club bookmark, and click here for the Poets bookmark.]
In other news, we just returned from Nashville to celebrate Family Weekend with our youngest, a new college freshman.  Before we hit the honkytonks Saturday afternoon to listen to music, I dragged my guys out to find Antique Archeology, one of the storefront shops of Mike Wolfe and crew from The History Channel's American Pickers.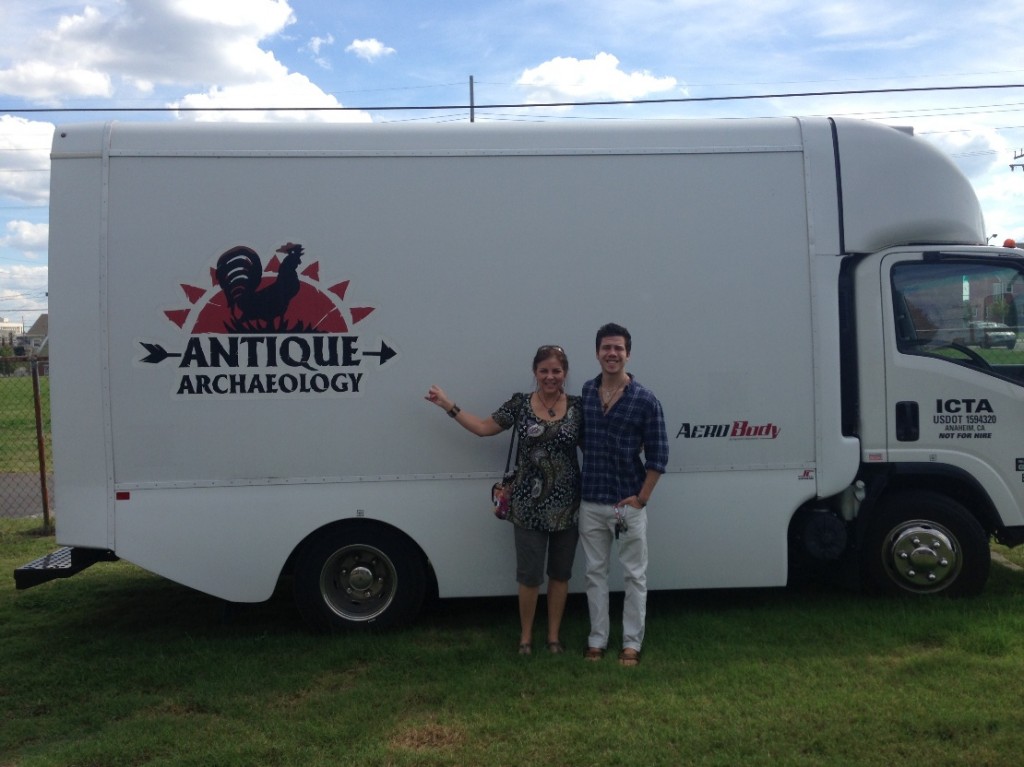 It was a fun stop, but heads' up – it's a small space (overly warm if lots of people are inside), featuring some items recognizable from episodes and primarily show souvenirs such as tee shirts, coffee cups, and the like.  I bought a cool postcard and a small poster which says "Rock the Rust" for my studio.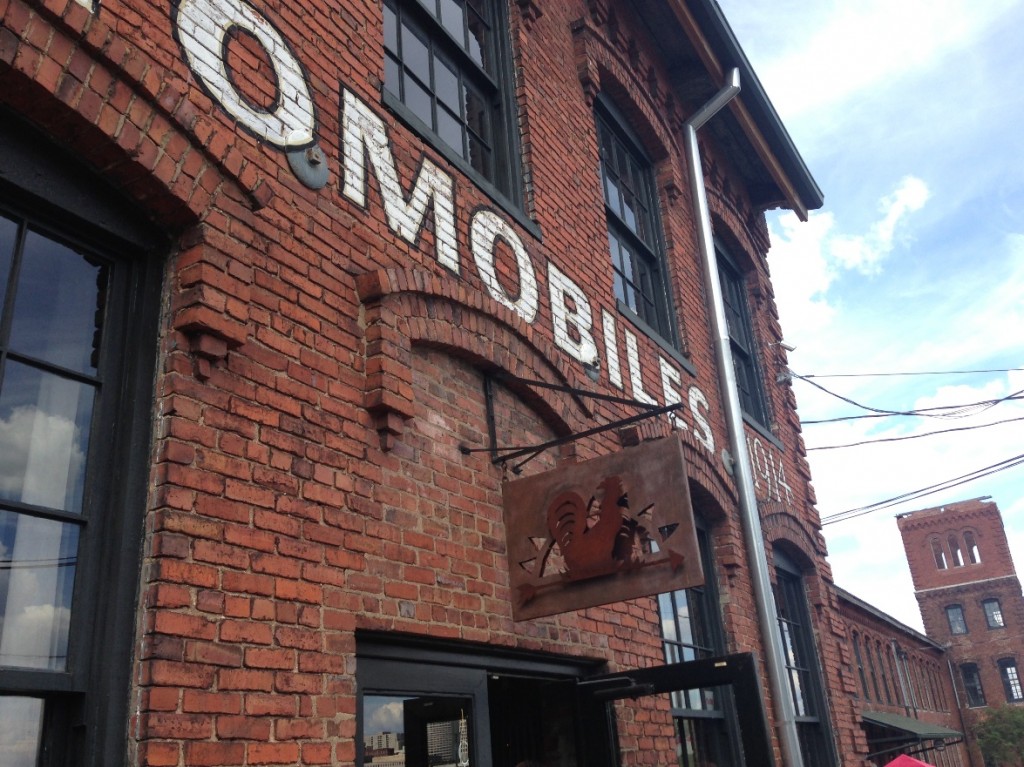 I plan to rock a lot more rust this fall,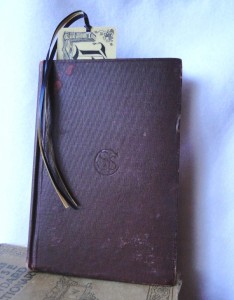 and more thick black lettering, too.  Wishing you a creative October, whatever time zone you're in!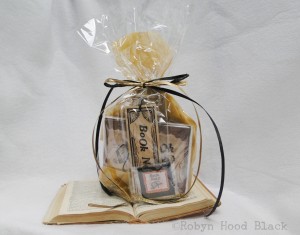 Greetings, Book, Letter, and Art Lovers!  Do you have a special bibliophile in your life?
As a new school year looms, I've got books, books, books on the brain.  How much does my family love books?  We are beginning to process of gradually relocating (more on that later), and pretty much the first things my husband has packed are boxes of books.  We need to donate some from our teetering stash, but how to decide?  I'm putting some of my zillions of children's books aside for our oldest, who will be teaching young readers just two years from now (after she graduates and then completes her masters.)  We've already given our youngest some books to take to college, as if he won't get enough there!
Well, if you know someone who can't resist the turn of a page, the crisp smell of the latest bestseller or the musty aroma of a time-tested classic, the heft and weight of words in hands – all stitched up in a glorious volume of board, cloth, paper and ink – I've come up with a new gift package that might suit.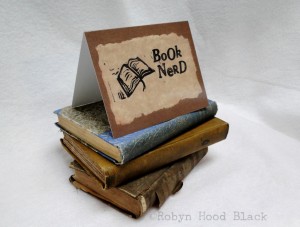 First, a package of "Book Nerd" note cards.  I made the original design for these with my little book relief print carving and hand-stamped the words "BoOk NeRD" with vintage metal letterpress type, all on torn paper.  (The notecard reproductions suggest this texture, but are completely flat.)
These come in packs of eight cards, printed on premium cardstock from environmentally sustainable forests with gloss coating on the outside. White envelopes are included. (Packaged in clear, archival 2 ml polypropylene.)
Next is – what else?  A bookmark!  This design was made with the same vintage metal  letterpress type, and features a black relief print border.  It's printed on premium cardstock from sustainable forests with a gloss coating, finished with a black ribbon and an antique brass-colored cord crimp.  It's packaged in a cello sleeve.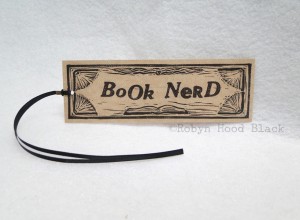 Finally, who couldn't use a fun magnet to keep track of all those reading lists?  A smaller image of the book design and stamped letters, printed on premium cardstock, is cut with a deckle edge and layered on a like-wise deckle-edged piece of copper cardstock.  These are collaged onto a 2″ X 2″ canvas board (painted black) and covered with acrylic gloss.  A strong 3/4″ magnet is secured to the back.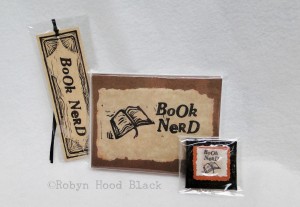 Each item is sold individually (just click on each picture if interested, and you'll zoom over to the appropriate listing in my Etsy shop), but I'm offering a little bit of a break and a fun presentation for the whole bundle.  The cards, bookmark, and magnet, each wrapped in its own clear packaging, are placed in a clear cello bag with gold woven tissue. Gold and black raffia tie up the nerdy ensemble.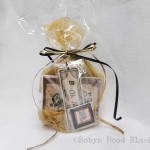 Wishing you and yours a happy August.  I'll be in and out of town, and working like crazy to stock up for the Decatur Book Festival street fair at the end of the month, so I'm declaring myself an honorary European and will take some of the month off re. blogging.  But only a couple of weeks –  I'll see you back here before the festival!