Earlier this year, I had the most wonderful surprise in my mailbox.  It included this card from Jama Rattigan, handmade by her sister-in-law, Alison.
Jama is an author, kidlit and food connoisseur, and blogger extraordinaire.  (If you don't know her blog, Alphabet Soup, get thee there post-haste after reading this post!)  She has excellent taste in, well, everything – and she's generous with her time and talent.
Back to my mailbox!  Jama is also from Hawaii.  On a trip there over the holidays, she was browsing in what looks like an incredible book and gift shop, Native Books in Honolulu, and found something she said made her think of me.  (How lovely is that?!) It was a pack of four hand printed note cards, with each block print representing something Hawaiin:  the Hawaiian hawksbill turtle, 'ulu (a type of breadfruit tree), hula implements, and coral.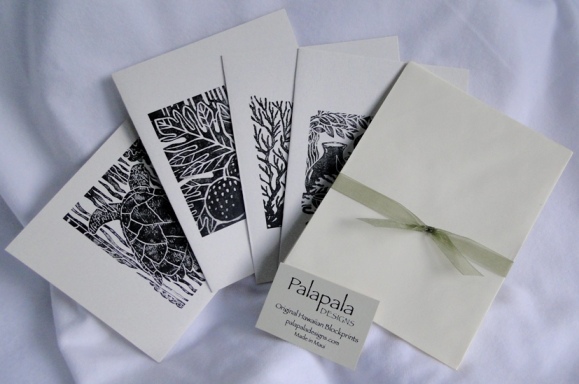 The cards were made by Palapala Designs.  Here's what you'll learn on the website:
"Founded by artist Palapala (Barbara) Chung, Palapala Designs is a small company based in Maui, Hawaii. Barbara designs and carves original blockprints of Hawaiian motifs and subjects, combining them with contemporary form and function."
I've loved browsing her beautiful designs!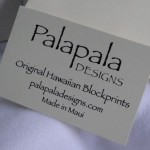 And I really love that I popped into Jama's mind as she looked at them, too.  Thank you again, Jama (and Alison – for that colorful, cheerful card which makes me smile.)
One more printmaking gem I wanted to share was this video, ALL ABOUT PRINTS:
This 2009 54-minute DVD from  Steriopticon Pictures™ was produced and directed by Christopher Noey and "explores the collaborative nature of printmaking, the democratic character of multiples, and the deep-rooted traditions of the art form."
It's a guided journey through Western printmaking, with long stops in the 19th century (saying hello to Whistler and Homer) and even longer stops in the 20th.  Edward  Hopper's influence is noted, and I really enjoyed the section about the influence of muralists from Mexico after the revolution there and through the 1930s.  Also fascinating was the role of the WPA in hiring artists as part of the Federal Art Project.    The last few decades are examined, too – the print "boom" of the 1960s and looks at what contemporary artists are creating now.  The documentary explores different kinds of Western printmaking available throughout history from the creation side as well as the collecting and curating sides.
I found this on the sale shelf (online!) of NorthLight Books, a dangerous destination for folks like me.  I don't see it there now, but the producer has a terrific website, which includes a list of interviewed artists and experts, clips from the film, and purchasing info/links.
Thank you for coming by, and go make an impression!