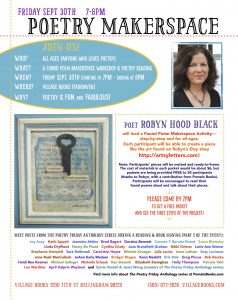 Greetings!  I'm glad to be back after evacuating for Hurricane Matthew.  [Weather has canceled the past two "First Friday After Five" gatherings in Beaufort this fall, but we'll cross fingers for November.]
Two weeks ago, I had the awesome opportunity to lead a Found Poem Makerspace Workshop in Bellingham, Washington, the night before Western Washington University's inaugural Poetry CHaT POETRY CAMP for grown-ups! Nearly 40 children's poets, each of us published in The Poetry Friday Anthology series by  Pomelo Books, came from all over the country and a couple of other countries as well to participate. The conference concluded with a special performance by Jack Prelutsky, who received a surprise award from the University.
The whole weekend was an absolute blast.  It was also an amazing feat, organized by WWU's Sylvia Tag and Nancy Johnson, with poet organization by Pomelo Books's Sylvia Vardell and Janet Wong.  I was delighted to be asked to present an art workshop at the incredible Village Books on Friday night.  It was open to all the poets, plus any bookstore customers who wanted to join in.  What a band of creative souls we had!
Janet had asked if I could lead everyone to make something akin to the mixed media found poem pieces I offer in my artsyletters shop on Etsy.
"Of course!" I said, and then started planning like crazy.  I knew I had to adapt the process, as my pieces take lots of overnight drying time between the various elements, plus I use a lot of messy materials.
I needed to come up with something we could create in an hour, and I still wanted to use authentic vintage "ingredients." And I needed to assemble supplies for – *cough* – up to 50 participants! I sent two heavy boxes of materials to Bellingham a week beforehand, and the lovely Fairhaven Village Inn had them waiting in our room when we arrived.
While I usually use 100-year-old texts in my mixed media collages, for this adventure, I discovered some vintage educational flashcards, each featuring a different shell from around the world.  (They were published two years before I was born, so definitely vintage!)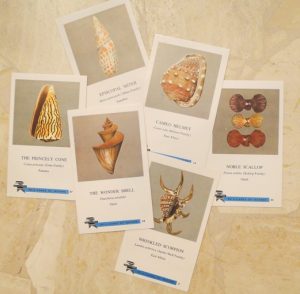 Serving as both substrate (surface) AND text, these cards worked great, with their text box fitting EXACTLY inside the pre-cut mats I ordered in a seafaring blue color.  We wanted to celebrate Bellingham's seaside location in the Pacific Northwest, and since I was coming all the way from the "Atlantic Southeast," I was happy to incorporate an ocean-friendly theme.
I demonstrated how to find a poem in a text that wasn't intended to be poetry, as I'd done with two poems in Georgia Heard's THE ARROW FINDS ITS MARK. For this project, however, we used more of a "blackout" approach like I do in my collages.
Participants jotted down poem ideas on paper, and when they were satisfied, snipped tiny strips from the sticky margins of sticky notes to cover the words they wanted to keep as a poem.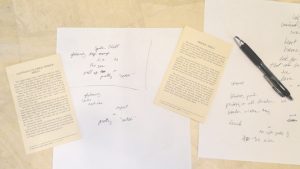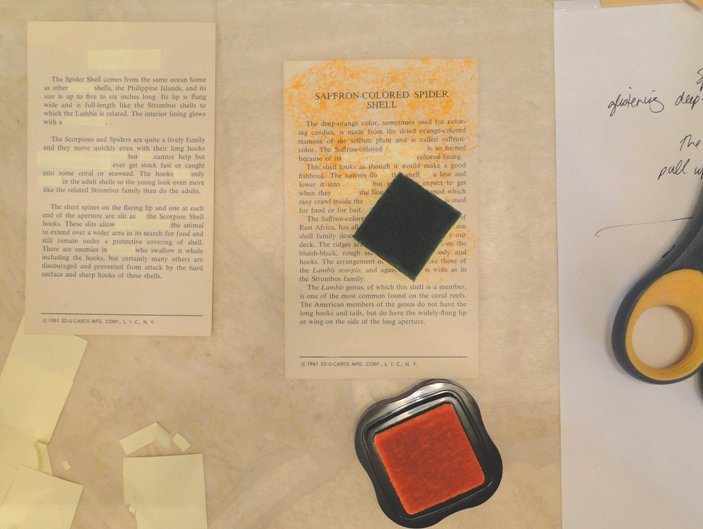 Instead of layers and glazes of acrylic or gouache paint, as I use, I provided a variety of colors of Stazon® ink pads. This ink dries very quickly.  Each poet-artist dabbed a color or two or more over the card (& over the sticky note strips), to cover the surrounding text. I'd provided cut-up sponge pieces, brushes, cotton swabs and the like.  Signo gel pens in different colors, and colored pencils, were also included, for making shadows under the chosen words, embellishing, or other touches.
The sticky note strips were then carefully peeled off with plastic toothpicks or tweezers, revealing the found poem.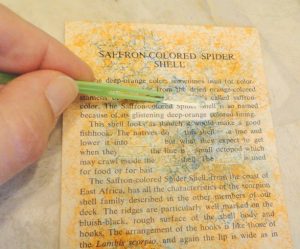 Then it was "ephemera" time.  In each packet I included vintage bookplates and sea-themed postage stamps from around the world.  (All found on Etsy.  I love Etsy as a shopper as well as a seller!)  Many of the bookplates featured Katsushika Hokusai's "The Great Wave" image, a woodblock print from the 1830s. Stamps included nautical images of boats, fish, or lighthouses.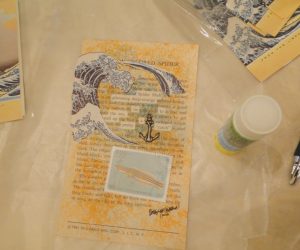 Attendees cut these images as desired, and then glued the backs with an Avery glue stick.  Then they positioned these and pressed them to their piece, took a deli sheet of wax paper and covered it all, and rolled the whole thing with a wine cork to use as a brayer and make the surface smooth.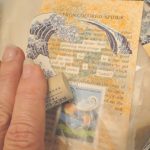 Each "kit" also included a little brass anchor that I had antiqued beforehand.  These were adhered with Aleene's Fast Grab Tacky Glue.
Finally, the finished art was mounted inside the 5X7 mat I had put together beforehand.  There was a little glitch in my attempts to demonstrate how to make "T-hinges" out of Lineco self-adhesive linen tape, but somehow everyone got his or her piece beautifully placed inside the mat.  Here was my finished sample: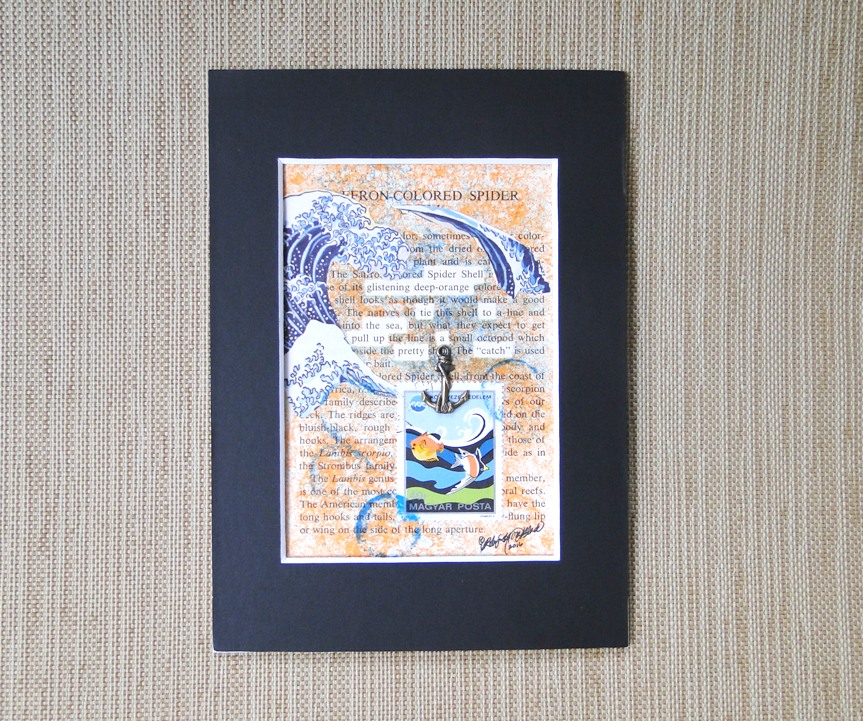 I was blown away by what everyone came up with!  There was such positive energy in our crowded little space at the end of a long day, and seeing table-mates share their creations with each other made my heart full.
Here's an example from my dear friend, Irene Latham:
Look
the boy
who called
deep water
brought up
broken colors
©Irene Latham
She included the workshop in a blog post here.
Nikki Grimes kindly shared these pictures she snapped:
Several more folks also blogged about the weekend and included their Makerspace found poem pieces in posts.Click on the links below for their behind-the-scenes inspirations!
Peg Cheng's recap brims with passion.
She said the workshop was "…the most fun I've had with a group of strangers in a long time. At one point, I took a breath, looked around, and realized I was completely surrounded by poets and authors all cutting, pasting, stamping, talking, and laughing. It was heaven."  [Reading that description was heavenly to me!]
Elizabeth Steinglass found simple, lovely words with which to make magic, shared in her post here.
Bridget Magee's poem is fun and profound at the same time.  Check it out here.
Happy to make Jone MaCulloch's top 10 faves from the weekend, where she shares her poem about beauty!
Holly Thompson, who came all the way from Japan, ended up with a card depicting a Japanese shell.  How amazing is that?  Here's her post about the conference.
And, look!  Greg Pincus just shared his found poem from the evening – wow, did he find some great words/phrases, or what?  (Who would have thought a flash card about a shell could yield a poem about family – with an existential question or two, even?)  His table was definitely on the raucus side. He writes, "… there I was, sitting at a table along with Bob Raczka, Peg Cheng, and Brenda Olson chatting, glue-ing, picking words, laughing, and having a blast."
For a round-up of more poet blog links about POETRY CAMP, check out Sylvia Vardell's wonderful post here.
I love it when my writing life and art life collide – this was a magical opportunity, and I'll cherish it always.  Thanks to everyone who participated so enthusiastically, and to Janet, Sylvia V., Sylvia T., and Nancy for inviting me to lead this creative found-poem treasure hunt!