Tag Archives:
William Shakespeare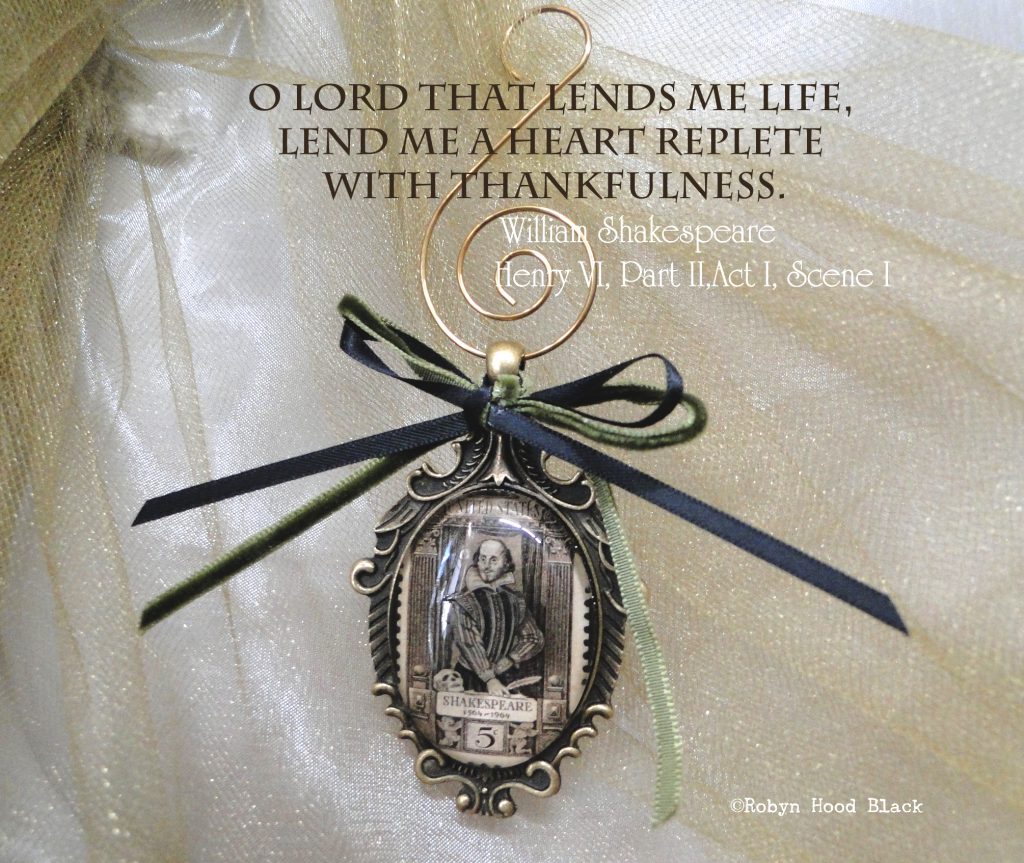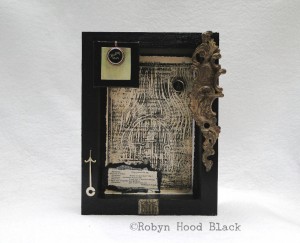 Seems an appropriate season (and time – it's coming up on midnight!) to share another recent mixed media adventure.  As my daughter, Morgan, was helping me enter items into my Square inventory on my mini iPad, she asked, "What do I call this?  Gothic Shakespeare?"
I liked the name.
This 6 in. by 8 in. shadow box features an embellished experiment.  I printed my fairy door relief print design on a page from a vintage reader, and the result was rather ethereal and dreamy – but gritty, too.  I loved its mysterious "air" and pondered using it as the backdrop for an altered page collage.  Pondering turned to pasting…
Somehow a vintage typewriter key seemed perfect to place near the top – the numeral 0 with a parenthesis which looks quite like a moon.  Then, the "Floating Shift" key, featured in a copper tray and attached to a mini canvas on light green paper and a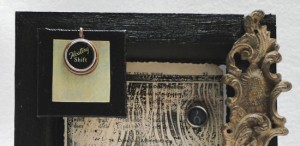 painted black background, floated itself up in a corner.
In another vintage book, I found a wonderful snippet from Shakespeare's "The Winter's Tale" – this seemed just right:
Hermione.    Pray you sit by us,
And tell's a tale.
Mamilius.      Merry or sad shall 't be?
Hermione.   As merry as you will.
Mamilius.      A sad tale's best for winter.
I have one of sprites and goblins.
Hermione.  Let's have that, sir.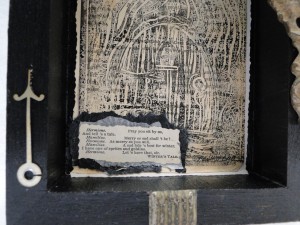 Beside this text I added an old clock hand (the reverse side – the lighter color contrasts with the black frame), and a small vintage metal rectangle graces the bottom edge.  On the top right, I placed this luscious little embellished metal door hardware.  (This was a find from my favorite antique dealer at the monthly Flowery Branch (Ga.) Antiques Market – I was able to get  a few!)
Here's hoping a little haunted art makes you smile.  Wishing you ghoulish inspirations as the month carries on… Bwa haaa ha ha ha.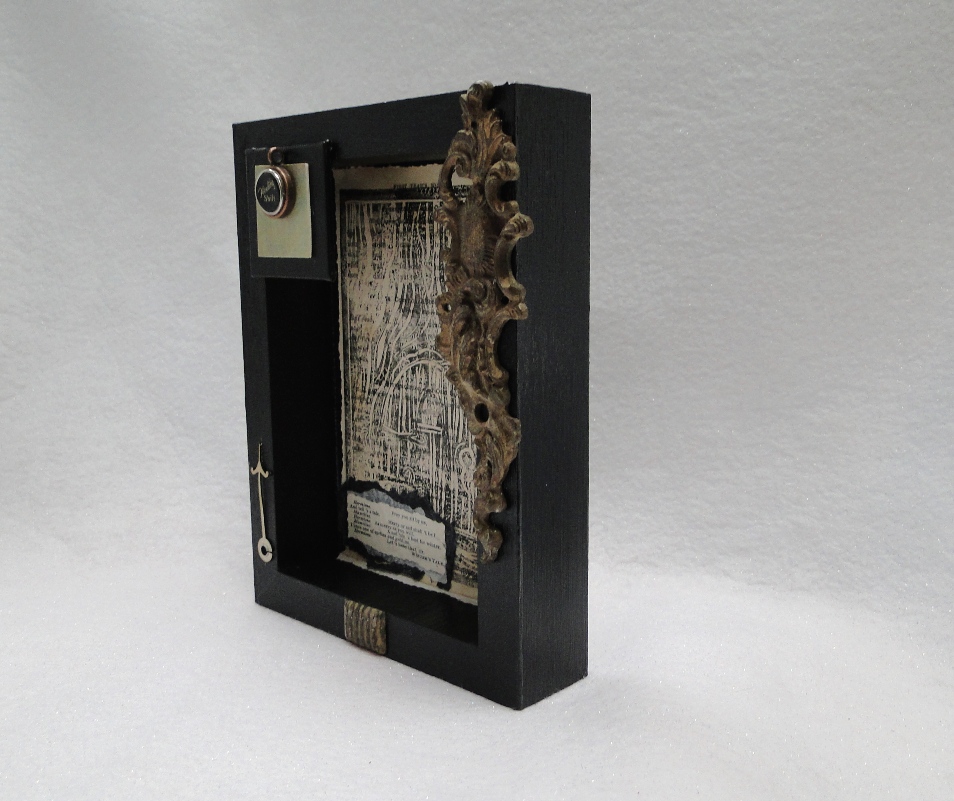 (Sorry for the day's delay – summertime, you know….)
What if classic authors had used social media?  I've had some fun with this idea creating the start to a series of new works using vintage "Authors" playing cards.
For instance, perhaps the Bard, while penning Romeo and Juliet, would have dubbed himself @mymindmisgives and sent a little message to @dearestjuliet – "Stony limits cannot hold love out" – with the hashtag #hanginginthestars.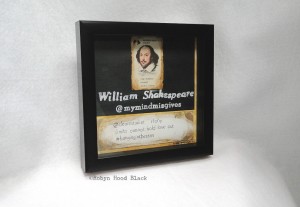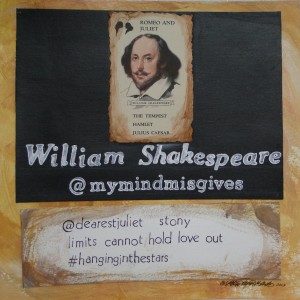 Okay, I've been having fun playing with vintage metal letterpress type, too.
I'm making 8 X 8 shadow box frame versions like the one above, and, in a smaller image at a smaller price point, a matted 8 X 8 option with mini-versions of these vintage cards.  Like this: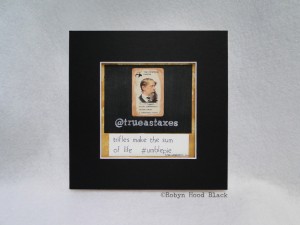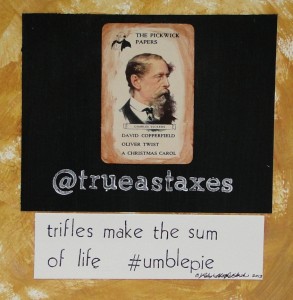 Here we have Charles Dickens, in the midst of David Copperfield. Hence the reference to himself as @trueastaxes, the quote, "Trifles make the sum of life," and the hashtag #umblepie.  (That's bona fide "umble," not "humble.")
You get the idea.  In my Etsy shop I've got a couple of the framed versions and three of the matted pieces.  I'll add more as I make them and want to have a nice selection of these (and lots of literary art) for my booth the 2013 Decatur Book Festival coming up Labor Day Weekend.
For these "hashtag classic authors," I'm only using phrases lifted from their direct quotations and works.  I hope they would get a kick out of them if they time-travelled to our fast-paced, social-media-driven lives.  To see this section in my Etsy shop, click here.  Enjoy, and thanks for visiting!