(Sorry for the day's delay – summertime, you know….)
What if classic authors had used social media?  I've had some fun with this idea creating the start to a series of new works using vintage "Authors" playing cards.
For instance, perhaps the Bard, while penning Romeo and Juliet, would have dubbed himself @mymindmisgives and sent a little message to @dearestjuliet – "Stony limits cannot hold love out" – with the hashtag #hanginginthestars.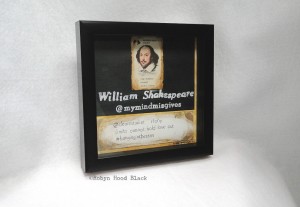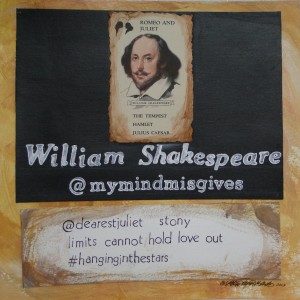 Okay, I've been having fun playing with vintage metal letterpress type, too.
I'm making 8 X 8 shadow box frame versions like the one above, and, in a smaller image at a smaller price point, a matted 8 X 8 option with mini-versions of these vintage cards.  Like this: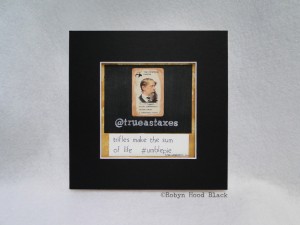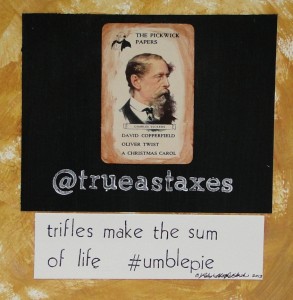 Here we have Charles Dickens, in the midst of David Copperfield. Hence the reference to himself as @trueastaxes, the quote, "Trifles make the sum of life," and the hashtag #umblepie.  (That's bona fide "umble," not "humble.")
You get the idea.  In my Etsy shop I've got a couple of the framed versions and three of the matted pieces.  I'll add more as I make them and want to have a nice selection of these (and lots of literary art) for my booth the 2013 Decatur Book Festival coming up Labor Day Weekend.
For these "hashtag classic authors," I'm only using phrases lifted from their direct quotations and works.  I hope they would get a kick out of them if they time-travelled to our fast-paced, social-media-driven lives.  To see this section in my Etsy shop, click here.  Enjoy, and thanks for visiting!