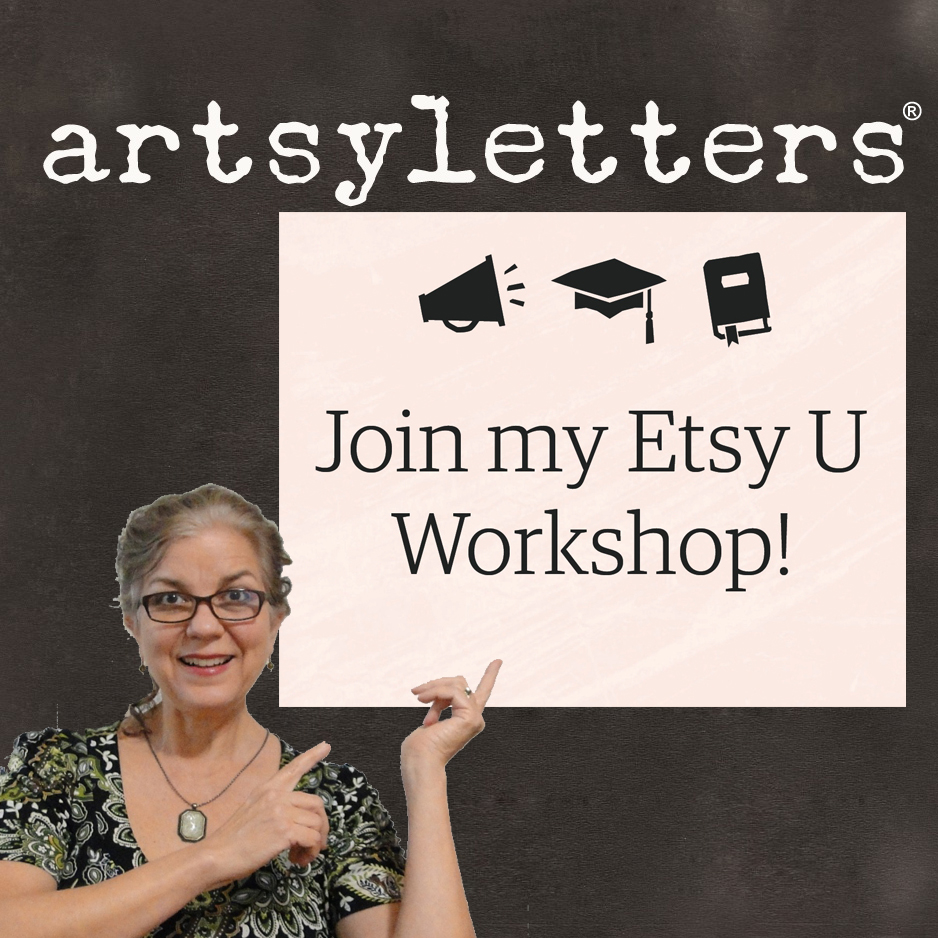 I've received training this year to be an Etsy U instructor. And now I'm ready to share what I've learned! I'm offering three workshops this month on Zoom, all online and to be recorded in the lovely Thibault Gallery (a couple doors down from my own studio) in downtown Beaufort. Mary Thibault and I are hoping to offer in-person workshops, too, but for now, all Etsy workshops are online. Read on for details, and feel free to email me with any questions. Space is limited. (robyn@artsyletters.com)
Just in time for your holiday prep! Here's the scoop:
New to the world of selling on Etsy, or would you just like to spruce up your skills? Whether you are an entrepreneurial Etsy maker, a vendor of vintage treasures, or a curator of craft supplies, these tips from Etsy can help you grow your business.
Join Robyn Hood Black of artsyletters® for some "Etsy U" tips in this September webinar series! We'll be coming to you from the lovely Thibault Gallery in Beaufort, SC, where artist and Etsy shop owner Mary Thibault will keep our 90-minute meetings humming with Southern hospitality.
On Etsy since 2012, Robyn completed trainings this year to become an Etsy U instructor. You'll benefit from content that comes straight from Etsy, as well as personal experience from Robyn (& Mary). Participants will have access to the slides after each session –a great resource in itself.
Sign up for one, two, or all three webinars. (We plan to record these and make them available for a limited time period following the classes, technology willing.)
Etsy Shop Branding Basics & Beyond
September 16, 2020 | 7:00 – 8:30 PM EDT – Cost: $15
What promise does your brand make to your customers?
We'll help you discover or fine-tune that, and then we'll explore how your shop's images, messaging, packaging, customer service and more help you keep that promise. A great introductory workshop and also helpful for those who have been around the Etsy block a few times!
Register for the Branding Workshop here.


Getting Found on Etsy – How Search Works
September 23, 2020 | 7:00 – 8:30 PM EDT – Cost: $15

You've got wonderful products, great photographs, and you're all set with pretty packaging and shipping tape… but how do potential customers find your shop? It's all about SEO – Search Engine Optimization. We'll delve into the workings of Etsy search, from keywords to conversion rates, exploring ways to optimize your shop listings to help match them with potential buyers. As a bonus, we'll talk some Google, too.
Register for the Search Workshop here.
Your Etsy Shop on Social Media
September 30, 2020 | 7:00 – 8:30 PM EDT – Cost: $15
Instagram, Facebook, Pinterest, YouTube, Twitter… How do we keep up? We'll look at some of the main channels in the Social Media world and how they can help connect your shop with potential customers. Then we'll offer tips on choosing the right one(s) for you. Learn how to share photos, videos and stories, and how to make a plan for your shop's social engagement that won't overtake the rest of your life!
Register for the Social Media Workshop here.
Note: Etsy U workshop participants will receive a "check in" link to provide an email address and the name of their Etsy shop. That's actually how I'll get credit for teaching the classes! Etsy states that it will not share personal information with unrelated third parties for marketing purposes.