It's my privilege to write a monthly poetry column over at my friend Janice Hardy's terrific blog for fiction writers, THE OTHER SIDE OF THE STORY.  My offering over there today harkens back to Notan (positive/negative shapes and such) as a simple way to think about characters in a story.  As an example, I borrowed characters from Margarita Engle's wonderful book, Hurricane Dancers (Henry Holt and Company, 2011).
I think its cover is, like the writing, just exquisite.  The jacket illustration was done by Cathie Bleck.  (The Artist's Statement on her website sings to me!)  The jacket designers were Rich Deas and Elizabeth Tardiff.
The book has six parts, each comprised of individual poems told in five voices. I love the visual opening each of these as well: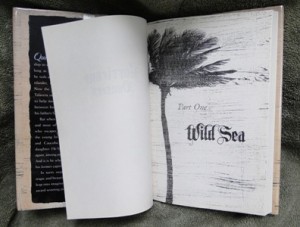 I don't know what the lettering/font is called, but I'm also in love with the letters.  Looks to me like blackletter with curlicues and a Western twang (with the "points" peeking out along the stems of the letters.)  Very dynamic.
For a treat, click here to see a video of cover artist Cathie Bleck's artistic process using kaolin clay.  Many of her incredible paintings as well as some studies and sketchbooks are posted on her site as well.  Enjoy!