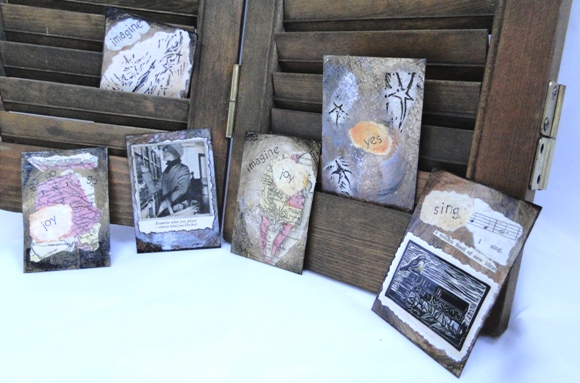 I spent much of the day at the home of lovely and talented artist Beth Rommel for our monthly art critique group meeting.  Beth has been working hard behind the scenes on the 6 Degrees of Creativity "Pocket Change" project.  Participants from all over the world have mailed in four Artist Trading Cards (ATCs) apiece.  Each will receive three different ones back, with the fourth kept to be posted and shared with the others, online and possibly in an ezine.
The theme for this project was:
Pocket Change is all about how simple and small acts can create and instill kindness, gratitude, and change.
I sent in my cards and am looking forward to  surprises in the mail later, plus seeing the whole group and learning how the creativity behind all of these cards – and there are hundreds and hundreds of cards – has enriched lives in small and large ways.  Grateful to be participating!
This was my first foray into ATCs.  I made mini mixed media collages using vintage materials and metal letterpress blocks as stamps.  These four are the ones I contributed to the project. (The other two might end up in my Etsy shop.) :0)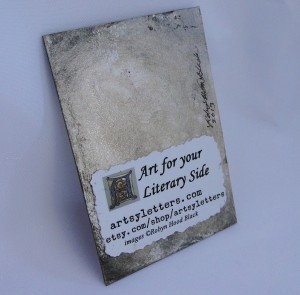 I had a lot of fun making these, using materials such as a map from an 1875 geography book, an ad from a 1927 issue of Good Housekeeping, and bits and pieces of my own relief printing.  Many thanks to the organizers for putting together this offering of creativity to the world!