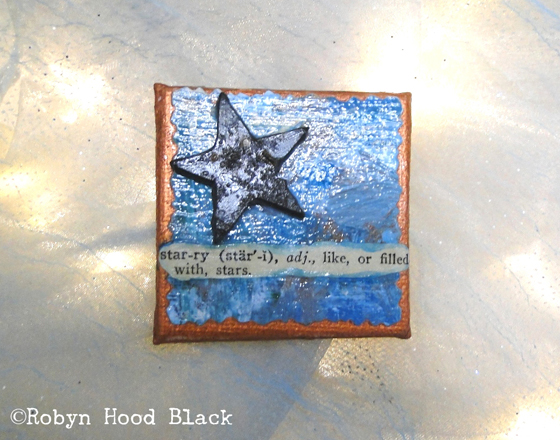 The magnets in my Etsy shop are pretty simple in design, but there are many steps and layers involved!  Here's a peek behind the scenes of my latest line of letter magnets.
Lately I've been enchanted with verdigris, the gorgeous blue-green patina taken on by copper over time.  I wanted to create a background texture which suggests it. If I make mixed media backgrounds with regular art paper, I prepare it with a layer of gesso first.  For this project, I skipped that step by using Canson's Canva-Paper, which has a linen texture and is pre-primed.
For loose "reference," I simply brought up some Google images on my phone by typing in "verdigris."  This is what I had finished on my drawing table a short while later: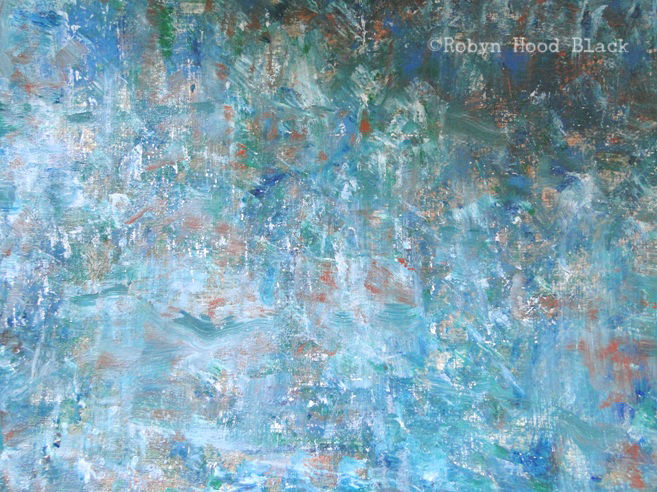 Now, because I liked the effect and wanted to remember how I made it, I took this shot below of the supplies I used – my recipe to refer back to.  I first mixed metallic copper paint liberally with acrylic gloss medium and painted big swaths across the blank paper.  When that was dry, I started painting the blues and greens (also with liberal gloss added!), and some metallic silvery white – letting layers dry or mostly dry in-between. Unless I wanted some scrunchy texture, which I made by blotting areas with a rubber-y square made for loosening jar lids, or humble wadded-up paper towels.  Oh, and I did a dab or two with a page from an old Italian wallpaper book as well.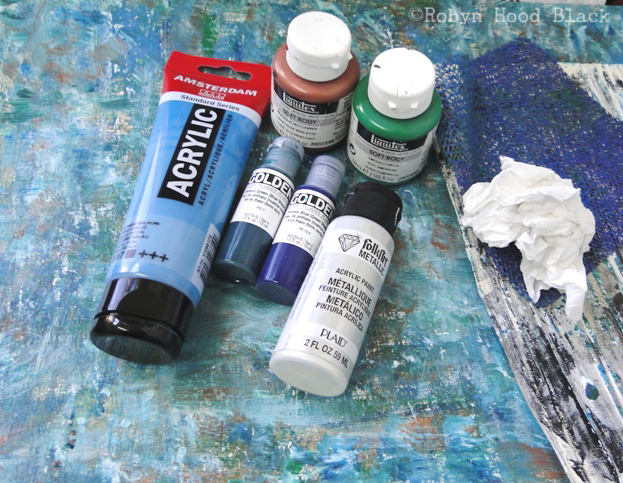 Meanwhile, back at the ranch, I painted 2-inch by 2-inch canvas board squares with metallic copper acrylic paint (Amsterdam).  It didn't go on as smoothly as the craft black I always use, but I just doubled up on the front sides. You can find the mini canvas panels at local arts and craft stores, or online.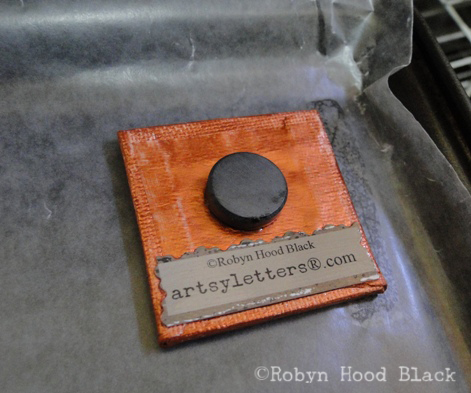 I always paint the backs first, and lay out everything on wax paper to inhibit sticking of stray drips.  When the paint is dry, I glue on a strong ceramic magnet.  (And my little logo piece.)  Hint:  I discovered a trick to helping the magnet "hold" while it's curing – let it dry on a metal tray!  It will stay right on that little square board, attracted to the metal underneath. Cookie trays work, or any flat metal surface lurking about.
After these set up, I painted the back with a layer of acrylic gloss medium.Then, yep, more drying.
Then, I flipped those babies over and painted all the fronts with the copper paint.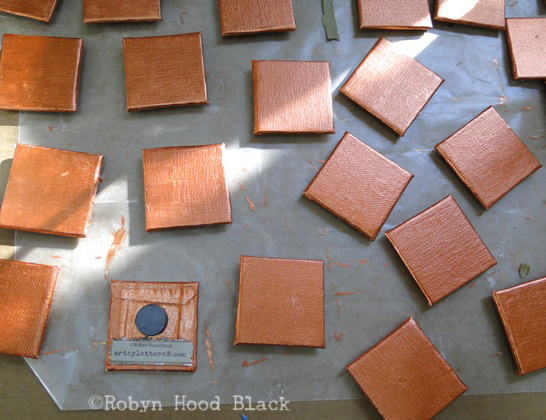 Then they had to dry.  Sigh.
When my verdigris sheet was dry, I used deckle-edged paper stamps to make 1.75-inch squares.  I usually have to find these stamps used online.  But it beats trying to cut each edge with special scissors.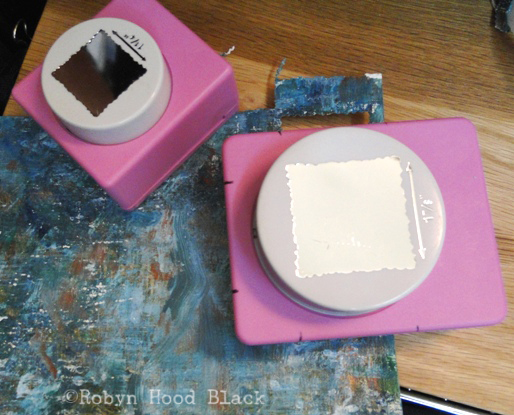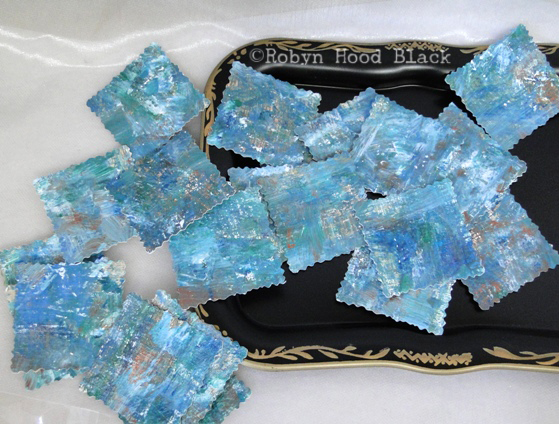 When the magnet tops were dry, I glued on each lovely textur-y square.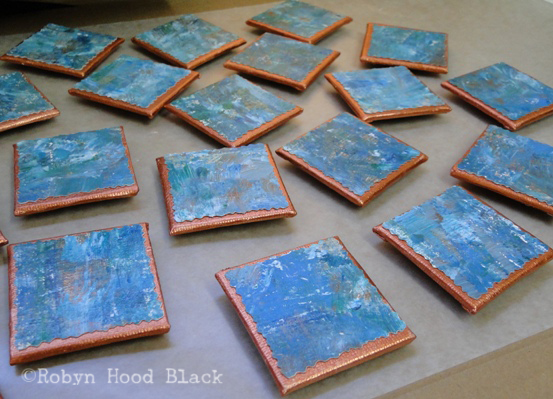 And, added ANOTHER layer of gloss medium on top, being sure sides were coated all the way around as well.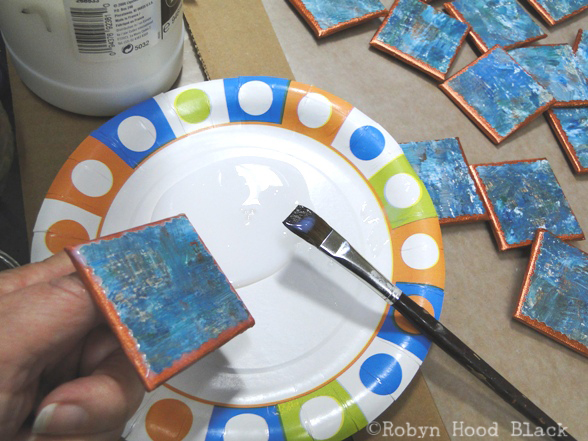 Then – you guessed it – they had to D-R-Y.
Before I even started on all of this, though, I had rustled up some wonderful metal letters made out West by an artisan/fellow Etsian, distressed to look really old.  (The letters, not the gentleman.  Well, I assume not the gentleman.) I had bought a few alphabets' worth a while back.  I do love the rust, but figured magnet recipients might not enjoy the powdery iron-y mess, so… acrylic gloss to the rescue again.  I painted all the backs and let the letters dry overnight on wax paper, and then painted all the fronts the next day. And let them dry!
So my letters were shiny-rusty.  (Same treatment for some small metal stars I had also purchased.)
When EVERYTHING was dry, I attached each letter to a prepared magnet and kept it flat while the glue dried.
Finally… Voilà!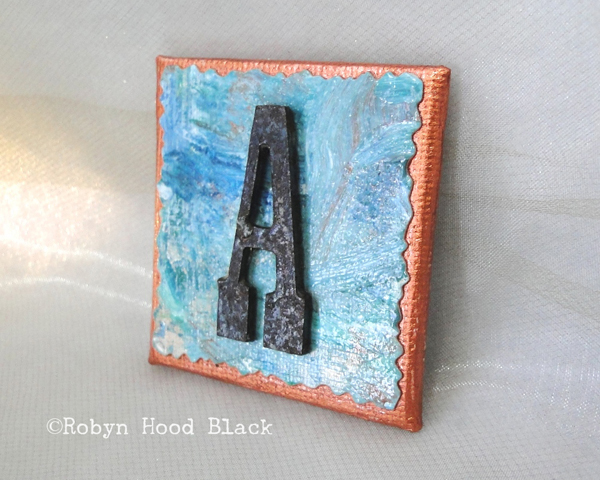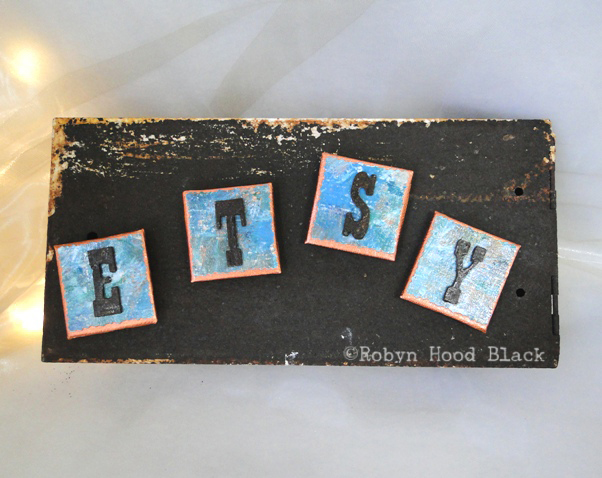 To adapt this adventure for a holiday gift-giving project, you can simplify it, of course.  If working with kids, be mindful of adhesives and fumes and choose non-toxic materials.  Young creators can make letters or any designs out of cardstock, or they might enjoy clipping items from old texts or magazines to recycle.
No time to make your own?  Well, that's why I'm here! ;0)
Feel free to peruse lots of new magnets in my Etsy shop. Go on, let them pull you in…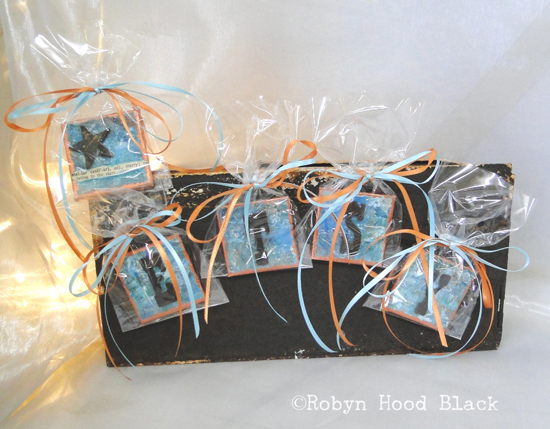 Happy Thanksgiving!  This Black Friday through Cyber Monday weekend, any order of $25 or more in my Etsy shop ships FREE! :0)