It's Cyber Monday!  Big thanks to fiction writer, poet, and artist Linda K. Sienkiewicz for featuring my Poet Gift Pack on her terrific blog in a post highlighting great gifts for writers and readers.  (You will certainly want to click on over and see the treasures she found!)
She's picked out some wonderful offerings, including Debbie Ritter's lively literary creations from Uneek Doll Designs. My friend and blogger extraordinaire Jama Rattigan featured Debbie as part of her Indie Artist Spotlight Series this past spring.  Love those dolls!
In Linda's list, you'll also see an example of her own work.  I'd already "favorited" this one on Etsy!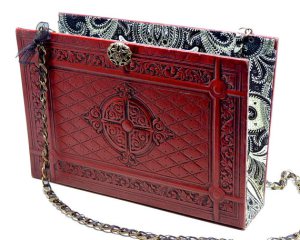 Linda creates amazing handbags and clutches from books and sells them through her Etsy shop, Rokki Handbags.  (This one is The American Educator Encyclopedia.)  Santa, are you listening?  Would love one of these…!
Enjoy your Cyber Monday shopping!
Remember, I've got Coupon Code BLACKLETTER13 in my Etsy shop today for 13 percent off your order!  [I'll be adding some more jewelry and mated initials and magnets and such after I get back from shipping a few Etsy orders this morning. (I love Etsy!) Email or convo me if you are looking for a particular letter for an item and don't see it in my shop.]