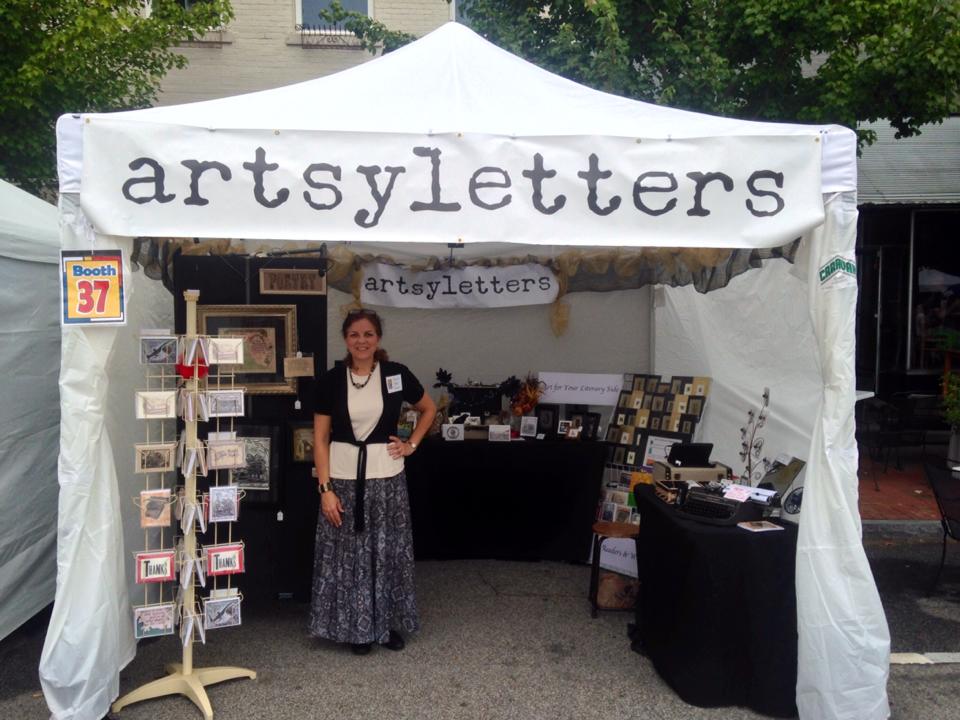 Thanks to everyone who ventured out this past weekend to Art in the Square here in North Georgia.  A special shout-out to my daughter, Morgan, who interrupted her busy college studies to drive down, package cards til after midnight, get up early both days and help haul, sell, and send out some social media love.  Couldn't have done it without her!
(She also recently set up my whole inventory on my Square register on my new iPad Mini. Can't TELL you how easy that makes it to conduct transactions with a little less fuss and flurry!  Square keeps track of everything – cash as well as credit card sales – and now the whole process is even easier. No entering of numbers, just a few clicks!)
Saturday started out all right, but the sprinkles became drizzles and, sad for us, soon a deluge.  Show organizers came around early afternoon and said it was all right to close up and return early on Sunday.  I think just about everyone did.  Tip:  If rain's in the forecast, don't put your booth right up next to the curb.  The rain came in a torrent and flooded our tent.  Our show-savvy neighbor helped us move the tent up a bit. My merchandise fared all right with the tent and with plastic I brought, but Morgan and I were drenched and miserable.  A bright spot? The gentleman playing bagpipes, undeterred by rain!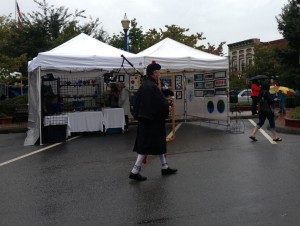 Other bright spots included friends who came by, such as Paula: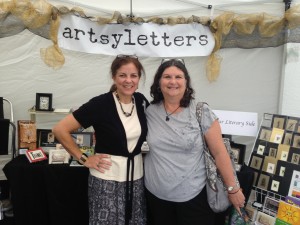 She has a great new blog, by the way – "Random Thoughts from the Creative Path."
Check it out!
Sunday brought the S*U*N, and a happier vibe all around. I enjoyed meeting customers, some from last year and some brand new!
The lovely Maddie, who had been to my booth last year, came by with her family, and her mom was one of my very best customers all weekend. (Thank you!) Maddie picked out one of my favorite items, too – some really old typewriter keys I set into earrings.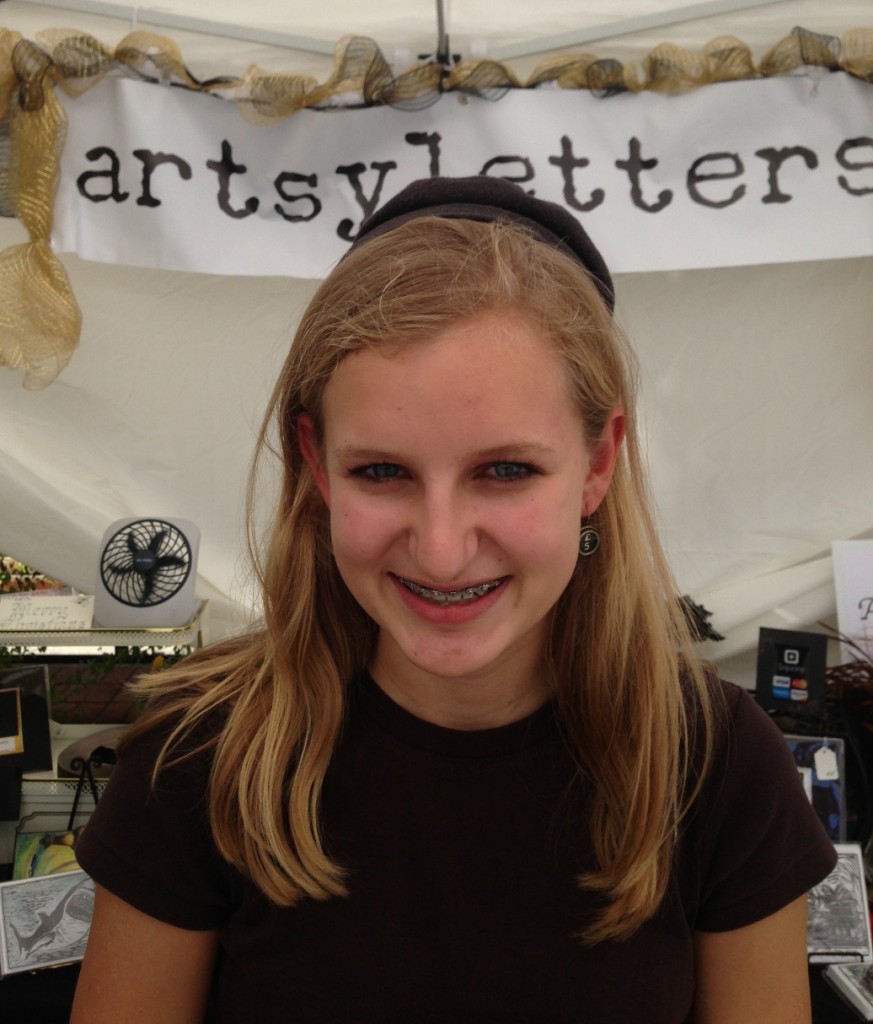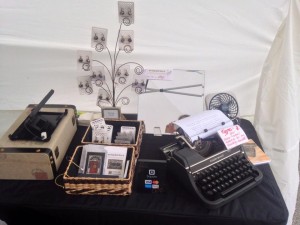 Why were these special?
Well, they have neat white letters & symbols on backgrounds, but even better, along with the letter "M," Maddie liked the number five key, which has the British pound symbol above it! Very cool. She put them right on and consented to letting me snap a picture. Isn't she classy and gorgeous?
After some constructive comments from a couple of artsy friends at the last show, and following my own instincts as well, I opened up the layout of my booth and was really happy with the flow.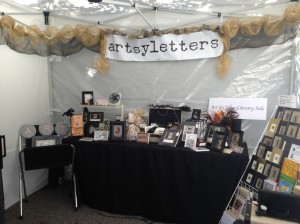 I had to sacrifice one side of a panel, but the extra space was more than worth it.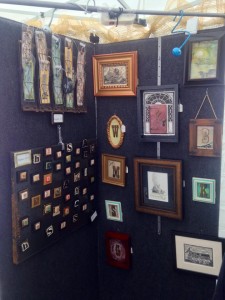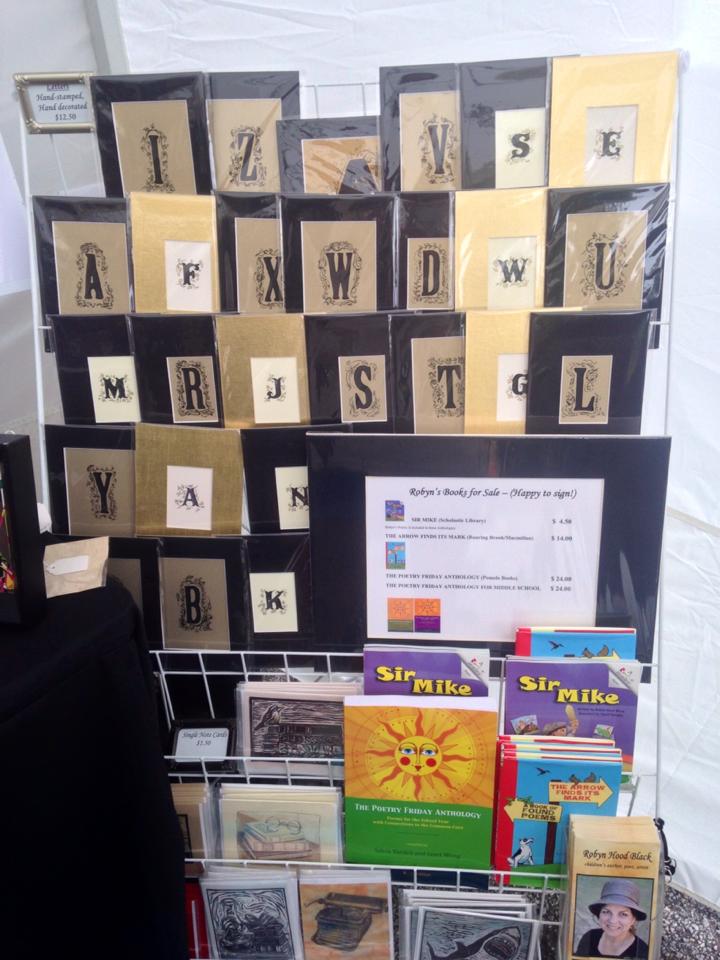 All in all, even with Saturday's washout, it was a good weekend. Thanks to my father-in-law, Reuben, who helped break down and pack up my booth after Morgan had to get back to school. I finally got my car unpacked, but don't ask if everything's put away yet… ;0) Some of it won't be right away, anyway – I'll be listing these new items I made for the show in my Etsy shop very soon!
As we soon round the corner into the holiday gift-buying season, don't forget to support your local creative folk.  The artists who participated in Art in the Square (and ones in your town, too) offer unique and wonderful treasures, and they're made in the USA!
(Happy First Full Week of Fall, Y'all…)