I love vintage wooden printing type.  The chunky solidness of each letter, the way a block feels in your hand, the patina of oh-so-smooth wood, ink long since seeped into its grain… ahhh.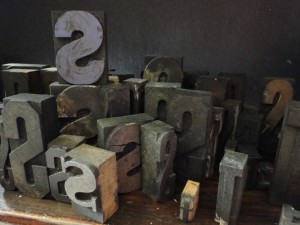 My own collection began with a jackpot.  Rummaging in a local antique store early last year, I found a beautiful old printer's tray and asked the proprietor if she had any typewriter keys.  No, she replied, but did you see the wooden type?  She took me to the back, back room (where I didn't confess I'd already done some pretty thorough snooping).  Under a stack of boxes, she unearthed a few black plastic musty dusty trays, encrusted in years of delightful neglect. They were full of large wooden letterpress letters! "How much for all of them?" I asked.
"As you see, no one has touched them for a long time.  How about $20?"
I couldn't believe my luck.  (And I've since discovered that letters like these easily command $5 or more apiece.)
They came home with me and mostly stayed in their trays for months, until not long ago I asked myself why I was keeping them hidden, when I'd love to look at them every day?  So my poetry books got moved from their narrow little bookshelf to a bigger bookshelf (their numbers had outgrown the small shelves anyway), and the vintage wooden shelf got moved into my office/studio, just behind the big old desk where I make most of my artwork.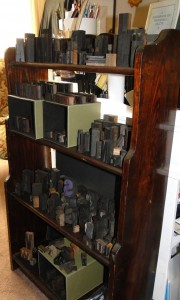 I enjoy the letters every day now, and I have easy access to them for projects.
I always keep an eye out for letterpress type when I'm antiquing.  (I have a good little collection of metal type, too.)  I've picked up some treasures, but I've also discovered that some letters are extremely hard to come by.  I didn't have a single C or E, for instance. So I went on an Etsy hunt to splurge on a complete set if I could find one.
I fell into a shop based in India, Vintage Marvels.
Oh, my.  The hand-carved letters are beautiful and have a bit of an exotic flair compared to the standard fonts already gracing my shelves.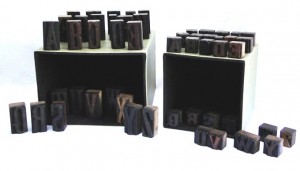 With a specific project in mind in which I'll hand-stamp their impressions (you'll see soon – promise), I purchased TWO sets.  I just couldn't decide, and I wanted the two different sizes.  The larger blocks are about two inches tall, and the smaller ones about an inch.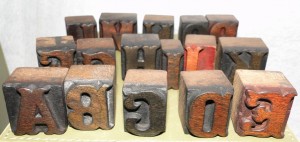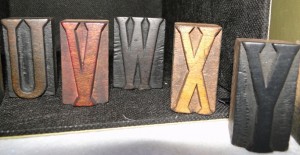 Call me obsessed, or a nerd, I don't mind.  There's something magical to me about the rich, dark lure of vintage letterpress.  And I'm sure the feel of the blocks harkens back to endless hours of playing with toy blocks that the lucky among us remember.  You could make words, villages, towers… whole worlds out of little wooden blocks.
Now I get to tap into this world of imagination and endless potential as a grown-up, too.
Do you have some treasures that bring you joy tucked away somewhere?  Life is short – make them a part of your daily experience!