Happy New Year!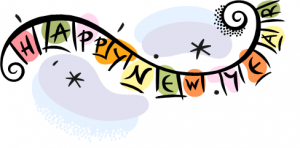 I hope 2013 brings you lots of creative inspiration.
I've enjoyed reading other folks' resolutions and plans for the coming year.  I have lots of projects up my sleeve, but at the risk of expending energy in the wrong place (talking about them) rather than the right place (um, doing the work), I'll keep most of mine close to the vest.  I know myself too well.
Stumbled upon this great quote this week:
    Art, like morality, consists of drawing the line somewhere.
G.K. Chesterton (1874-1936)  (G.K. Chesterton quotes are the best.)
I'm already starting the year off a wee bit behind, as I'm getting today's post up in the afternoon, rather than having ready to go just after midnight each week, which is what I try to do.  But, life isn't perfect and neither am I;  may as well get all that out of the way early in this New Year.  (Confession:  I still have to take down our Christmas decorations and deliver a couple of "Christmas Eve" gifts… .)
In the spirit of drawing the line somewhere, though, I decided to take a break today from the "urgent" and spend a few minutes actually sketching in my journal.  (One of my goals for this year is to do more of that – sketching.)  AND, I decided to break open a fun new product I ordered in the fall – Pam Carriker's "Liquid Pencil" Sketching Ink by Derivan.
Step One:  Find my sketch journal. (Yes, I had to look for it.)
Step Two:  Find a suitable subject.  I started out with the tiny young Chihuahua we rescued over Thanksgiving.  She was an eager subject but way too active.  I then settled on a wonderful small red vintage oil lamp that I bought on Etsy a month or so ago.  It has a lovely shape and a variety of textures with its metal base and glass globe.
Step Three:  Jump in.
I was a little skeptical about this pencil-in-a-bottle – what's wrong with drawing with an actual pencil?  But I tried it on a brush and even a dip pen, and I must admit – it's fun.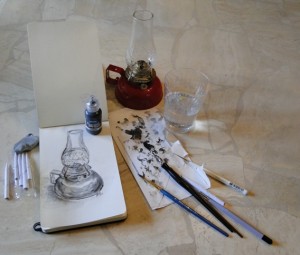 You get that lovely graphite look and feel, but with loose strokes and washes, and concentrated darks for contrast.  I simply used varied amounts of water here and there to thin the solution before dipping in.  A tortillon worked great for blending, and I tried a kneaded eraser in a spot or two with good results as well.
I give Liquid Pencil two smudged thumbs up!  (And don't let the small size of the bottle fool you… this is potent stuff, so a little goes a long way.)  Be sure to check out the video with application examples at the link above.  I just played before watching, but the video might give you even more ideas.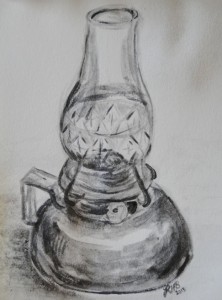 I look forward to experimenting and "playing" creatively throughout the New Year.  How about you?  Can you "begin where you are" and let loose your Muse?  Thanks for visiting, and please share any thoughts about creativity below.
(And I do hope you'll drop by each Wednesday.  Let's see what we come up with this year!)