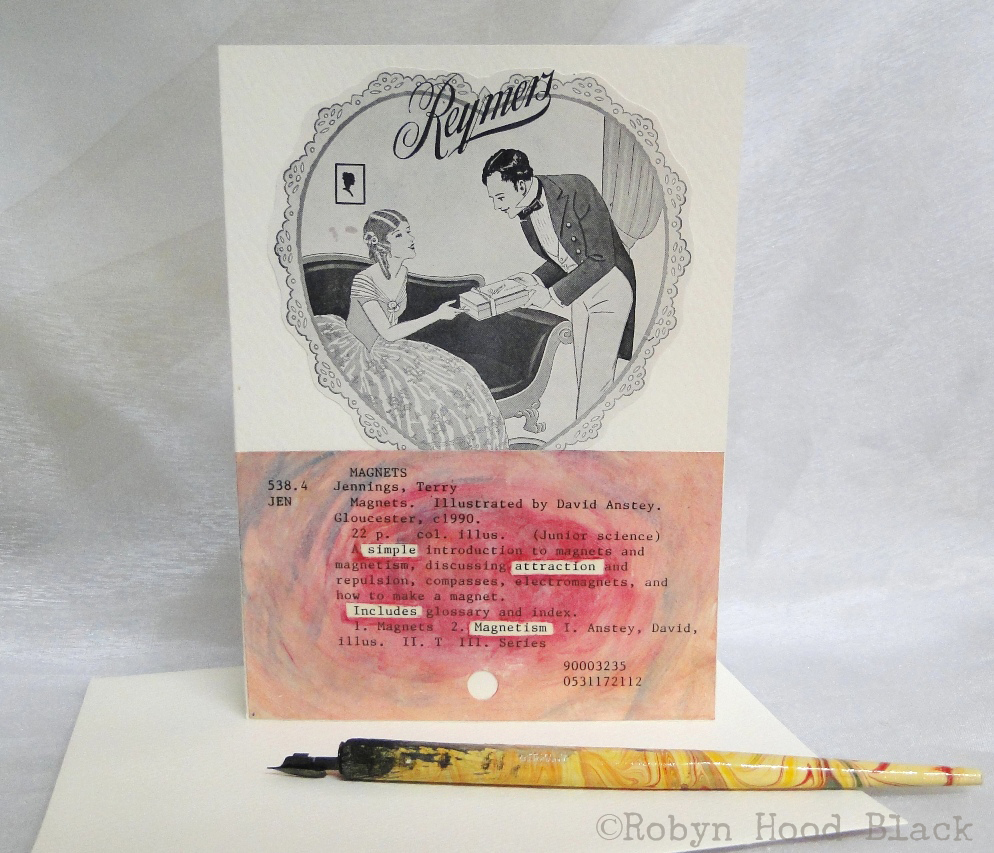 'Tis the Season of Love… and I love some new adventures in the studio making greeting cards from altered vintage library card catalog cards!  Depending on the year of your birth, you may or may not wax nostalgic about those big, clunky, glorious card catalog files which used to be a fixture in every library.  Sighhh.  Swooon.
I'm always on the hunt for vintage items and ephemera to re-purpose into found poem art.  (Click here for a post about a workshop I led at Poetry Camp a few months ago if you'd like to see some details about the process.) When I stumbled into purchasing a big batch of catalog cards which used to live in an elementary school library, my heart skipped a beat.  While most of these don't easily offer up a found poem possibility, some do!  (I'll use the others in something else, I'm sure.)
I first tested this project with a Poem Postcard Exchange  with my Poetry Friday crowd over at my author blog. The exchange was organized by Jone MacCulloch, and I posted about the cards I received here and here.
I made five different cards to send out by 1.) "antiquing" the edges of thick Stonehenge paper with inks, 2.) carving and printing a "back" for the postcard: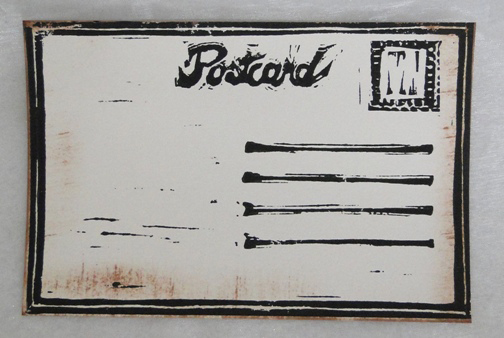 3.) picking out phrases from the catalog cards to highlight as found text (the words covered up here by adhesive strips of sticky notes):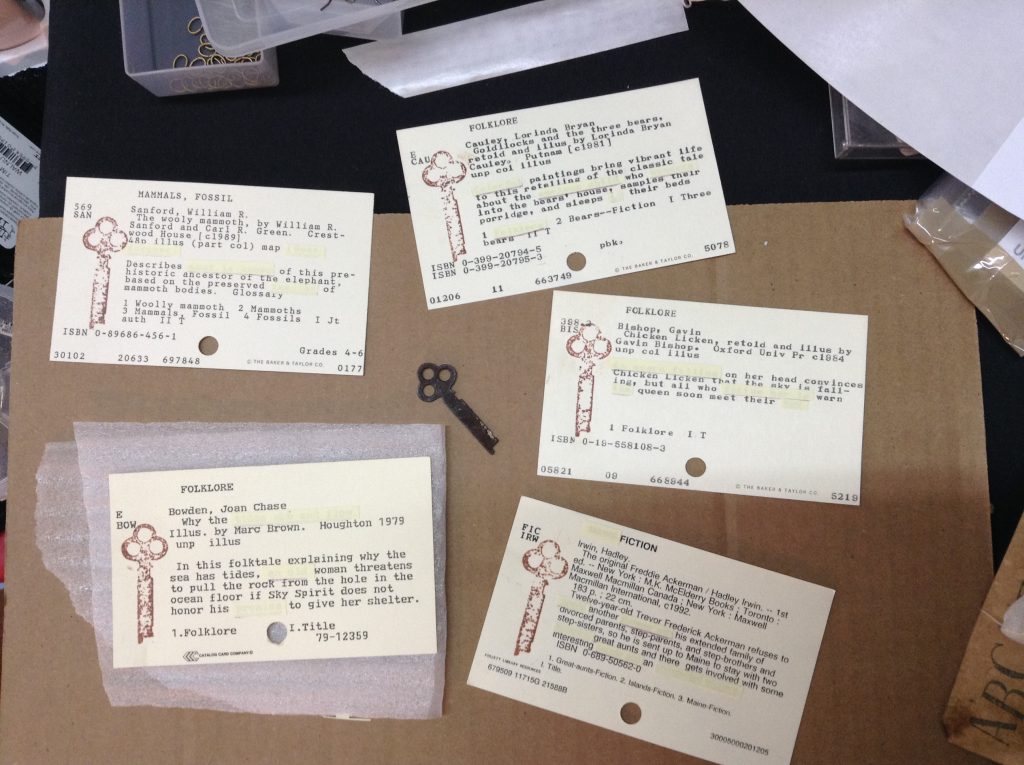 and 4.) painting glossy washes over the words, 5.) removing the sticky note strips, and 6.) adhering the cards to the front of the postcards. Oh – and I used this great little antique key to print its shape onto the cards.
I completely forgot to take a picture of any of the finished ones, so Jone kindly sent me a photo of the one I sent to her!
Jone writes haiku, as I do, so I thought she'd enjoy the haiku-like vibe of this one.
I've made a few recent cards for family and friends, and employed this catalog card idea. Then I decided it would be fun to find one that might lend itself to being a Valentine, or at least a romantic card, above.  Here's a closeup of the text: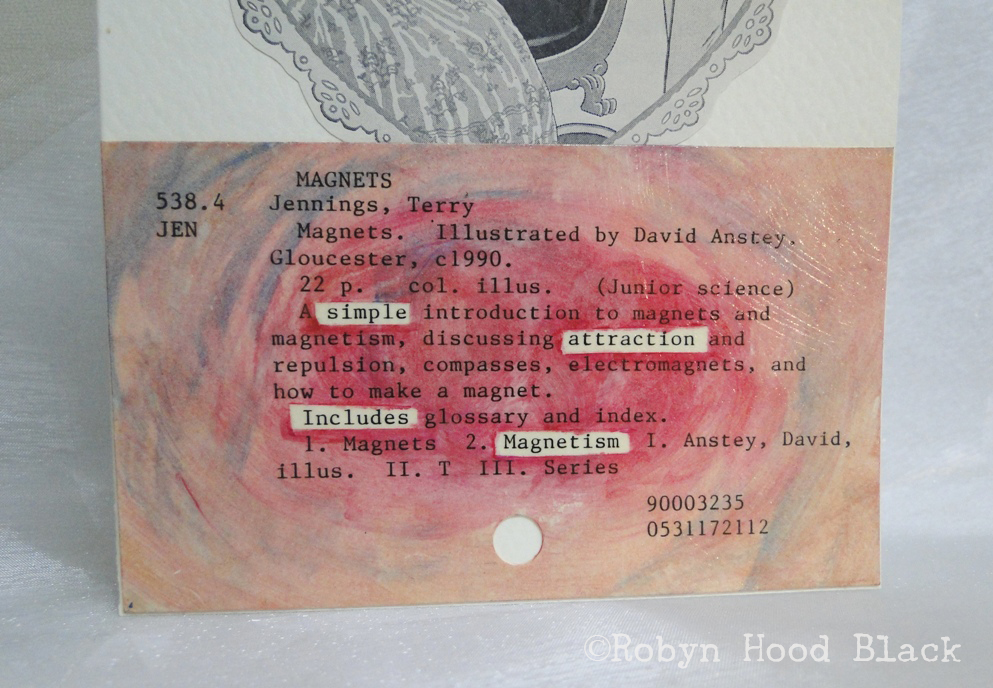 For fun, I attached a vintage library card pocket inside, and tucked in a blank vintage check-out card for a personal message: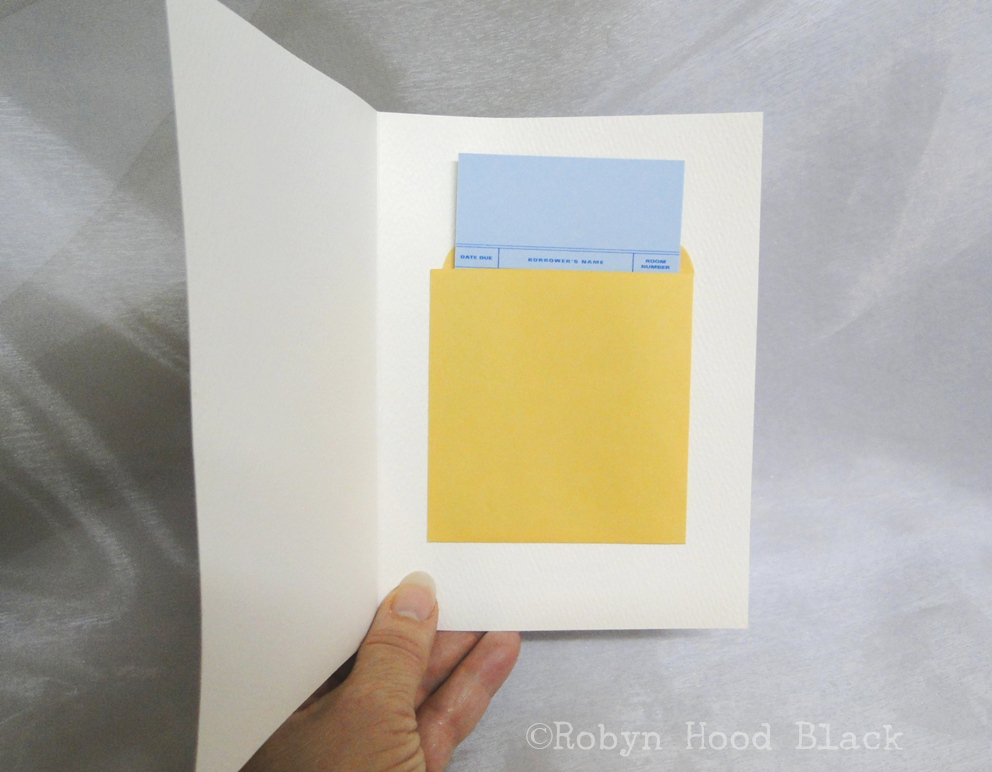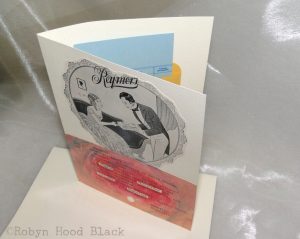 The illustration on this card was clipped from the February 1927 issue of Country Life.
I had time to make one more before leaving for the day: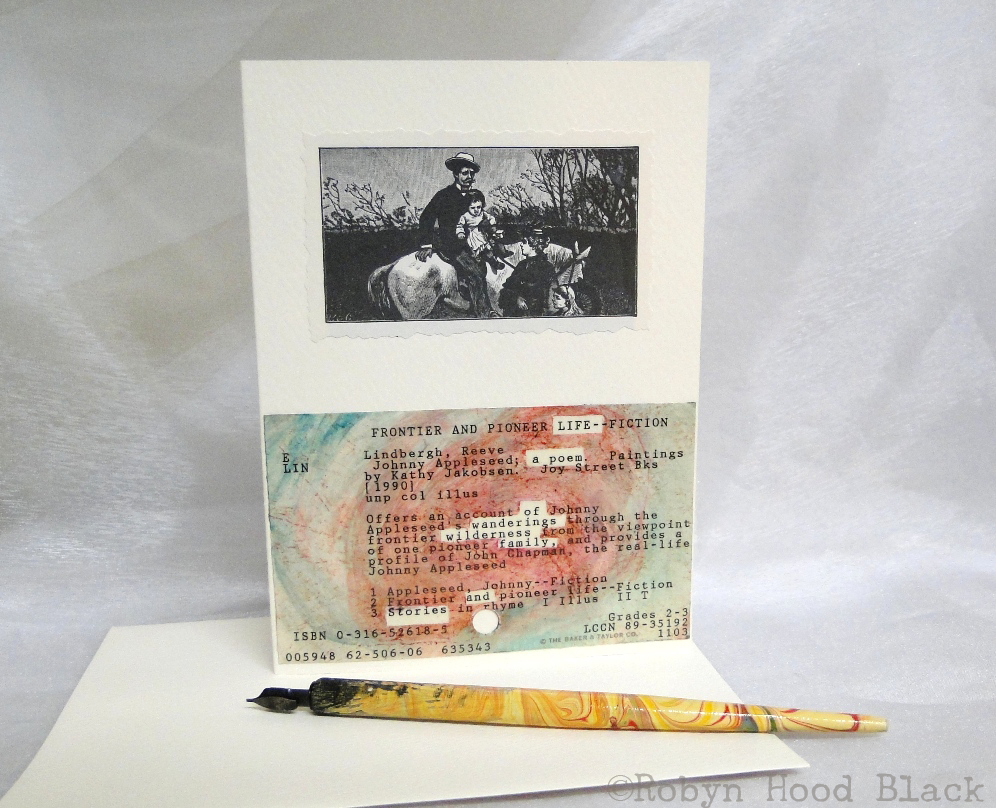 This one reads:
LIFE – 
a poem
of
wanderings,
wilderness
family,
and
Stories
It's topped off with an illustration clipped from a McGuffey's Eclectic Reader (1920).
And, yes, it's hiding away a vintage blank check-out card in a vintage paper pocket, too: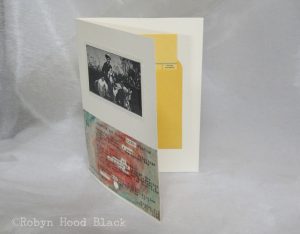 These cards are made with Strathmore textured paper and come with matching envelopes.  At 5 X 7, they can be easily framed if desired. They're in my Etsy shop, and I'll be making more, for sure. :0)
Thanks for visiting, and wishing you love for Valentine's Day and all days!