Thanks for the kind feedback on my post a couple of weeks ago about handmade touches for my daughter's wedding. As promised, here's a little caboose to that, about how I decorated myself for the occasion.
I found my dress (on sale, no less!) at Macy's, after some disheartening shopping experiences before that.  I fell in love with its Downton Abbey vibe.  Daughter Morgan and I were die-hard fans from season to season, either texting during episodes or watching together on rare occasions of visits.  I wasn't necessarily shopping for black, but since it was a "Black/Whyte" wedding, early evening, and bridesmaids were in gray, I went with it.
Never one to stop at one layer, I decided to make that a bit of a theme for my Mother-of-the-Bride "ensemble." Being as big a fan of buying on Etsy as I am of selling on Etsy, that's where I turned for inspiration.
First – earrings!  I wanted something period-authentic to echo the scalloped sequin-y pattern of my dress.  I found these 1920s clip-on delights from La Dolce Vita Jewels.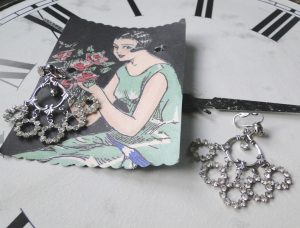 I love them! Plus, shop owner Michele sent the loveliest note with them, tucking in good wishes for the wedding, and they were beautifully packaged with extra TLC  (& such a fun vintage image-inspired display card).  They were on sale, too, but a sparkly splurge at around $68.
Shoes were a challenge, but I'll mention as they indirectly led to my next couple of purchases.  The dress was long, but hemming would have been prohibitively expensive because of its beading.  I quickly discovered, however, that an old Achilles injury was not going to allow me to wear any seriously high heels.  Arrgh. The mother of the groom – who arranged the awesome get-away car pictured above – suggested I try wedges.
I found some (again, after discouraging store excursions and even online ordering attempts!) at T. J. Maxx.  They were dressy as wedges go, with black straps and bling.  But the bling was silver and gold, not just silver like the rest of me was working out to be.  I thought, why not add a bit of gold elsewhere and then I'll just be sporting more than one kind of shine?  It's how I generally roll anyway.
I found this glorious little flapper/'20s bag from Jackie and Suzette at The Curiosity Collectors with this description –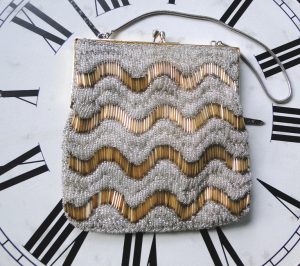 "Beautiful, sparkly 1920's beaded evening purse…it's a combination of silver beads with long gold beads laid in a wave..has a pretty clasp with faux diamonds (I hope they're not real!) and a pretty coiled silver tone handle."
Not only did it have both silver and gold, but it came with my scallop-y waves, too!
Their description noted some condition issues, which I was happy to tackle.  The lining was stained (no one would see that!) and needed to be reattached by sewing all around the handle.  Hence, its wonderful "as-is" price of $19.99.  I'm still smiling over that one.
Finally, I knew I'd be wearing a lovely wrist corsage by Dahlia, but I'm a jewelry gal and wanted something for my other arm.  Searching Etsy for "art deco" and "bangles," I found a simple bracelet from GloryDayz – circa 1950s but with that period feel.  It's black enamel with a gold-accented, wavy metallic design – which meant I had to get it to go with the dress and the beaded bag, right?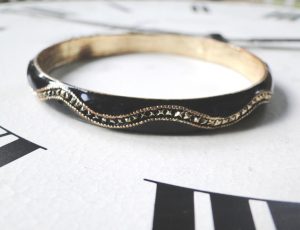 Shows its age a little but just the right touch.  And just $14.99!  Shop owner Lisa Rae took great care in fun packaging and sent a thoughtful note.
Oh – and I must confess buying a beautiful new ring (black onyx) from a silversmith in Dahlonega, Georgia, a month before the wedding.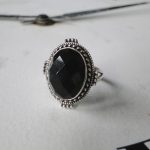 It was in an Art Deco setting I couldn't resist.And reasonably priced for such careful hand crafting.
Plus, I was with some girlfriends.  Peer pressure.
I didn't realize while gathering these fun, 1920s/Art Deco elements that the bride and groom would get to make a grand exit in a 1928 Hudson!
Icing on the wedding cake. :0)