Holiday Shopping Season is in Full Swing!
Wish you had some elves to help?
While I don't have elves to hire out, I do have five ready-to-go gift ideas if you have any readers, writers, teachers, or crafty folks on your list.  (Click any image to learn more about each product.)
Here are two gift packs ($15 each) that made their way onto some sleighs last year:
First, for the Book Nerds in your life:
And the poets:
And here are three new gift packs!
First, for Teachers:
This "TEACHERS RULE" pack includes my apple and books notecards, a bookmark, large magnet, and – just for fun – a 6-inch ruler (made in the USA)!  These items come in a fun black gift bag with chalkboard-white designs.  I'm happy to personalize the bag with white chalkboard paint if desired. This gift set is $17.50
Next, for the Wordsmiths in your world:
This "WRITERS WRULE" pack includes my typewriter notecards, a bookmark, large magnet, and – again, just for fun – a 6-inch ruler. This gift set is $16.50.
Finally, for the artists, crafters, and creators in your sphere who have lots of ideas and inspirations to keep track of:
This (affordable!) "MAKER MAGNET GIFT PACK" features a large magnet which reads, in chalk-inspired lettering, "A maker before there was a movement" – as well as a circular chalkboard-inspired "Make – Made do" magnet and a flat laminate "I make, therefore I am" magnet. These are tucked into recycled kraft shreds and presented in a shimmery mini organza gift bag. (Just $10.75)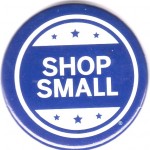 Thanks for taking a look, and may all your holiday shopping be wrapped up without a lot of stress!  And may you find or make the perfect gifts for your special someones.