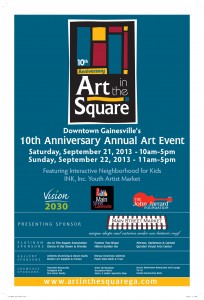 Greetings from the road!  No real post today, but here's a poster.
I'm looking forward to participating in Art in the Square in Gainesville, Georgia, Sat. & Sun., Sept. 21-22.  This was my first art show for artsyletters last year!
If you're in the area and out and about that weekend, come on by.  Many wonderful artists will be displaying and selling work, and other treats will abound.  For more info, please click here.
Hope to see you there!