Then came faire May, the fayrest mayd on ground,
  Deckt all with dainties of her seasons pryde, …
Edmund Spenser, The Faerie Queen
Wishing you and yours a lovely month of May!
Here are a few warm colors to go with the warm weather: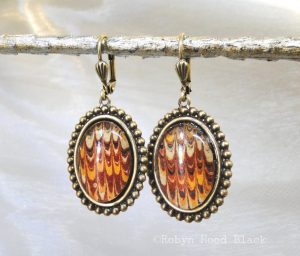 The endpapers in these brass earrings were clipped from an 1863 Dickens novel.  (Click the picture for the Etsy listing.)
May brings graduation celebrations in our household.  [My shop will take a few days off this weekend for the occasion.] I hope you enjoyed National Poetry Month, and that  May will bring you bright flowers and warm remembrances.
Several projects are bubbling in my studio… More soon!