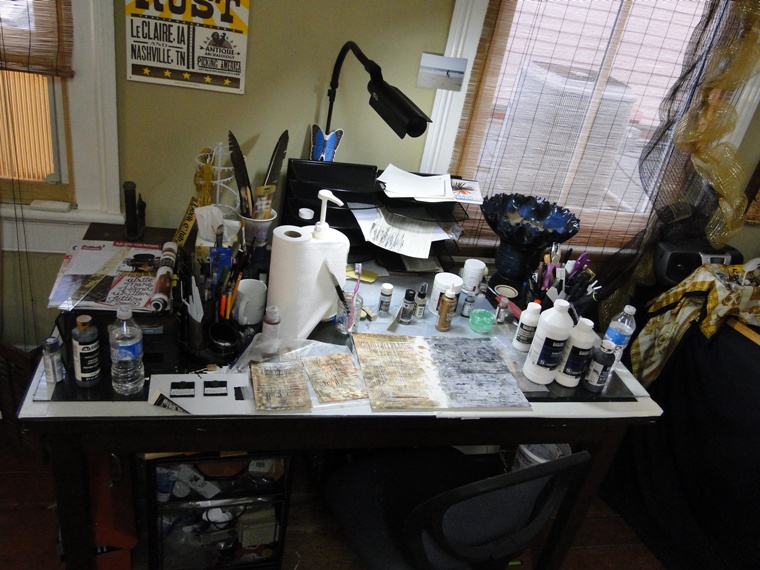 I'll explain this messy table in just a minute.  But first, a quick catch-up:
My plans last month were:  Travel to help oldest (daughter) get set up her brand new third-grade classroom, return home, travel with hubby to get youngest (son) settled in to his second year of college, return home, and work like a crazy person in my downtown studio, creating at a record pace to fill my Etsy shop and my local display at Fordham Market for the busy fall season.
Reality was:  The very night of the college move-in, what I thought was an annoying pulled muscle in the back of my shoulder (that I'd ignored for weeks) suddenly morphed into something excruciating.  Pain not only engulfed my shoulder, but my entire arm and hand as well. So began my adventure with entrapped nerves – the ones that exit  the vertebrae in the neck and pass through the Scalene muscles (the three muscles in the side of the neck).
I am beyond thankful to have found a neuromuscular massage therapist with a masters in physical therapy.  (Think part relief/part torture.)  She is slowly putting me to rights, but it's a long healing process.  Still don't have complete feeling in my last two fingers or full strength in my right hand; still packing myself in ice several times a day to chill in the recliner we ended up buying.  (This condition does not lend itself to much actual sleep!) Note to my artist and writer friends:  years of hunching over drawing tables and keyboards contributes to the possibility of this!  So, take frequent breaks.  Watch that posture.  Breathe.
Anyway, my therapist recently "allowed" me to work an hour in the morning and an hour in the afternoon, if I rest with ice in between.
She even made my buy two timers – one for the studio, one for the computer.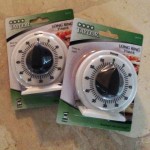 I've been SO happy to be able to make some art, and make a mess, even if it's for short periods!  Just so happens I was trying out a technique I'd recently seen in a video by the talented and generous Seth Apter.  He had demonstrated a way to use textured wallpaper samples and gesso when working on mixed media surfaces.  This necessitated, of course, that I find a really cool book of Italian wallpaper samples on eBay and purchase it.  Yes, I did.
I'd been trying out this technique the last couple of days in my brief studio visits.  Then late today I stumbled on a Twitter link to a fun round-up Seth is doing on his blog, The Altered Page.  He's invited artists to submit links to their own blog posts featuring their messy studio tables!  Kind of a come-as-you-are-party, rather than the polished and perfect studio pictures we all drool over in magazines.
I figured since my current project – making backgrounds for some small mixed media pieces (pix of those soon – promise!  My idea is actually turning out…), I had to knock at the blog party door even if I'm a little late today.  So there's my messy studio table up there, and here are a couple more pictures:
and I can't wait to spend LOTS of time in here, making more messes!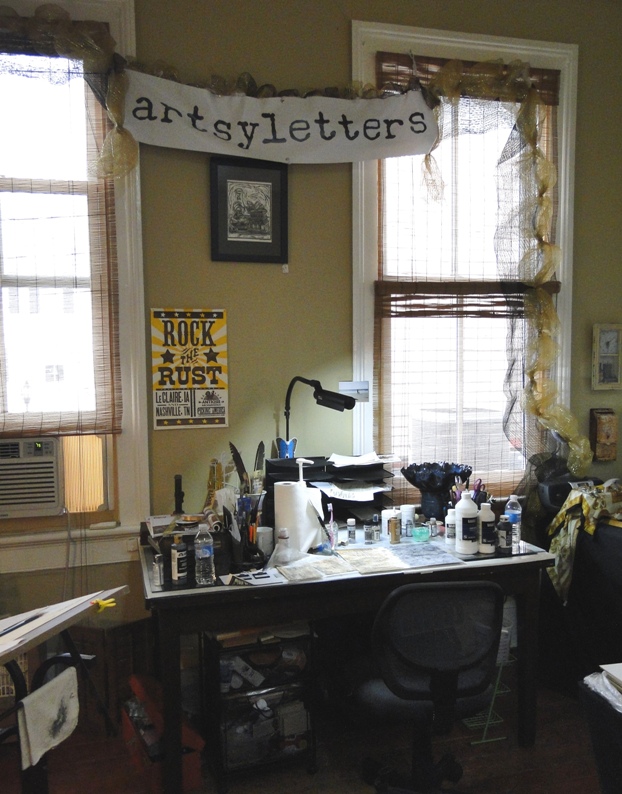 If you love sneak peeks into working studios, be sure to check out all the great links artists have submitted to The Altered Page.  That will keep me busy in my recliner for quite a while.  And if you'd like to see more of my own studio, I posted a little "tour" a few weeks ago, here.  Thanks for coming by!